Nixonville, Part 1
Tour Stop #10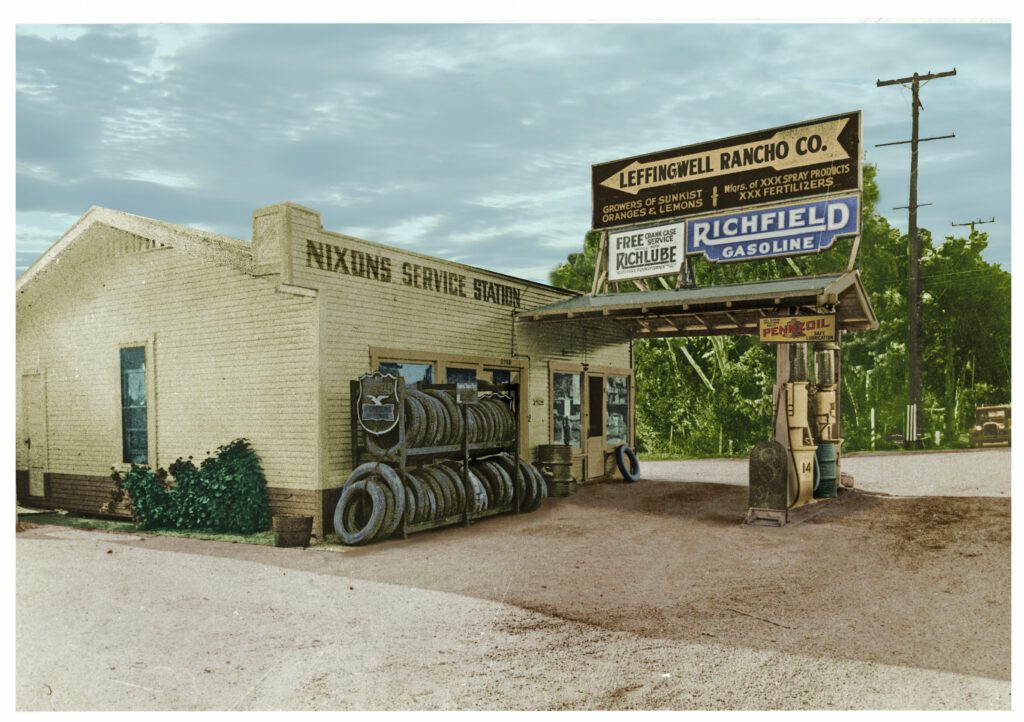 In 1922, the Nixons moved to Whittier from Richard's birthplace in Yorba Linda. They stayed with Hanna's mother Almira Milhous while Frank built a new home close to town. The original plan was to live in town and work the nearby Santa Fe oil fields, but Frank soon realized that there were no service stations between Whittier and La Habra (just 8 miles to the east). This area between Whittier and La Habra was known as East Whittier.
At the time, Whittier Boulevard between Whittier and La Habra was a narrow, unpaved road full of chuckholes and rocks. It was sparsely populated, consisting mostly of barley and hay fields, lined for miles by endless rows of walnut, lemon and orange orchards, interrupted by the occasional house. Most lots were at least ten acres, with homes were few and far between. Families could live a mile or two apart and still be considered neighbors. East Whittier was basically a separate community from the town of Whittier, deemed "out in the country" where life was "carefree and uncomplicated."
One hundred years ago, in 1923, Frank and Hannah decided to move "out in the country" and open a gas station in East Whittier. The plan had quite a bit of foresight as Whittier Boulevard was the main thoroughfare in Los Angeles.
So the family bought a corner acre at Santa Gertrudes and Whittier Boulevard, at the half-way point between Whittier and La Habra.
Just to the north across Whittier Boulevard was the Murphy Ranch of 5,000 acres and the Leffingwell Ranch of 500 acres was to the west on the other side of Santa Gertrudes. Each of which were very large operations.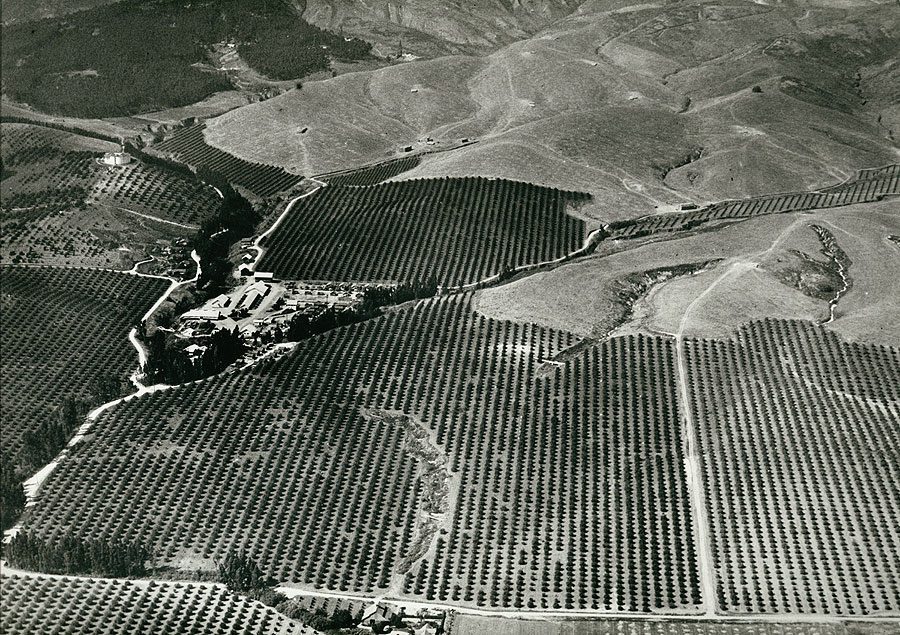 Frank Nixon built a small service station, with a small room at the rear where the family could eat. Once Frank Nixon completed the gas station, behind it he built a two-car garage with living quarters above for the family. Soon after, he added a modest-sized gray wooden house, facing Santa Gertrudes, with a yard out front. The main house was "quite small," one bedroom and a bath, a fair-sized living/dining room, a kitchen with wood counters, and a dinette area with a great big table covered with oil cloth. Martha Cato, a Nixon cousin, described it: "The furnishings were very simple, made of wood. There were rugs and antimacassars on the chair arms, the little doilies over the chair arms and the backs of the chairs." The boys' bedrooms remained over the detached garage, and to reach them, one had to go outside, off the kitchen, and up a covered wooden stairway.
Frank's gas station was open from six in the morning until eight at night, seven days a week. Staffing the gas station was a family affair, and in their younger years, Harold and Richard helped pump gas. Mineral rights to the surrounding areas were controlled by Standard Oil. However, the Nixon gas station sold only Richfield Oil Company gasoline because Frank was so taken with Ida M. Tarbell's 1904 exposé The History of the Standard Oil Company. The exposé accused Standard Oil of using unfair tactics to put smaller oil companies out of business. After reading Tarbell's bestseller, Frank declared: "I hate Standard Oil and everybody who works for them."
Across Whittier Boulevard from the service station was the East Whittier Friends Church, the only church between Whittier and La Habra until the 1950s, and regardless of any previous church affiliation, most East Whittier families attended services there. Doug Brannon later reflected that even though his family was raised Baptist, once they moved to East Whittier, "the Nixon boys invited us to Sunday school at East Whittier, and we started going to East Whittier Friends Church."
The Nixons lived across the boulevard from the church, and like all the other families, they generally spent Sundays there and were seen as "devout in their religion and regular in their attendance." The day began with Sunday school at 10:00 a.m., regular morning worship service an hour later, Christian Endeavor in the afternoon, followed by an evening service. And on Wednesday evenings, they attended a prayer meeting group as well. As Hannah's sister Olive Marshburn pointed out, "Church was the social life" for Richard's generation.
Since young people gathered at church on Sundays, the Nixon home, directly across the street, was the common meeting place. The boys' bedrooms over the detached garage became a clubhouse of sorts for their friends to meet for "bull sessions." The kids enjoyed playing baseball and football on Whittier Boulevard, and Richard, who credited his father with instilling his "competitive feeling," was an active participant who played hard and tried to win but also possessed a strong sense of fair play both on and off the field. According to childhood friend Ray Burbank, "If a situation or judgment between individuals or groups seemed unfair to him, it disturbed him." For Richard, the question of how a game was played was more important than who won.
The boys and girls had separate Sunday school classes, but they often participated together in Christian Endeavor social activities, such as potlucks in the church basement, hayrides, and excursions to the beach or Saturday night shows in Whittier. Martha Cato described their outings:
"Out in East Whittier, you could just head off in any direction and be out in the wilds! The big Leffingwell Ranch was out there, right in the back of the store. The Murphy Ranch was on the other side. Of course, these covered many, many acres with citrus groves and with lots of little dirt roads going around through. There were ever so many places to go, to ride horseback, or to hayride. Everybody had barns, so we always had our Halloween parties in the barns."
As Frank Nixon's gas station grew, so did the East Whittier First Friends Church, and when a new church was built in 1926, the old church building was moved across the street to Frank's lot where he converted the building from a church to a store. What had been the belfry became Frank's office. Then a business area began to develop when "Slim" Craddick opened a fruit stand next door, and neighbor Samuel Horney, a barber, opened a shop where he cut the Nixon boys' hair for twenty-five cents.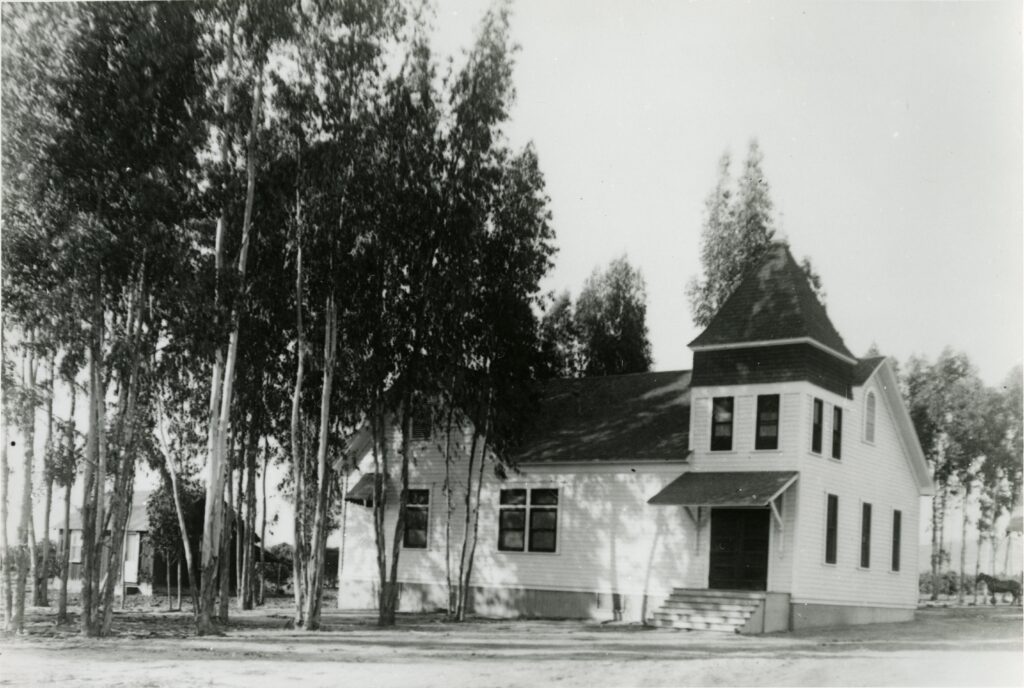 Although East Whittier had few families, they all had many children, all of whom were friends with the Nixon boys. Not only did everyone know each other, many were related, as the Milhous family was particularly large. Franklin Milhous had four siblings, nine children, and twenty-seven grandchildren. In addition, three of Frank Nixon's four siblings lived nearby with all of their children. Richard's neighbor, Agnes Brannon, reflected, "I think about half of the community there was related in some way to the Milhous and the Nixon and the Scott families. They were all interrelated, the Kenworthys, the Milhouses, the Nixons, the Scotts."
The Nixons were so well known in their community that some referred to the area where the Nixon store was located as Nixonville. It was here that Richard Nixon and family lived from 1923 through 1939. In 1947 Richard's younger brother Don took over the Nixon store, expanding it as he succeeded in business.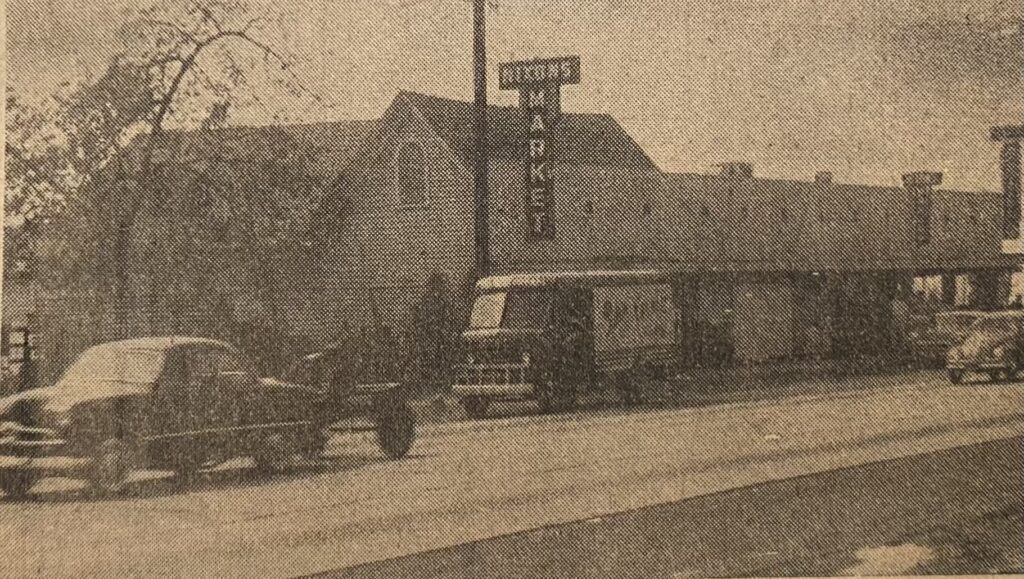 Whittier in the 1950s exploded in development. As Whittier's fortunes grew, so did the Nixon's. What started as a gas station led to a store, and another market, then a grill, a drive-in, multiple restaurants and a supermarket. All of it was centered around Nixonville.