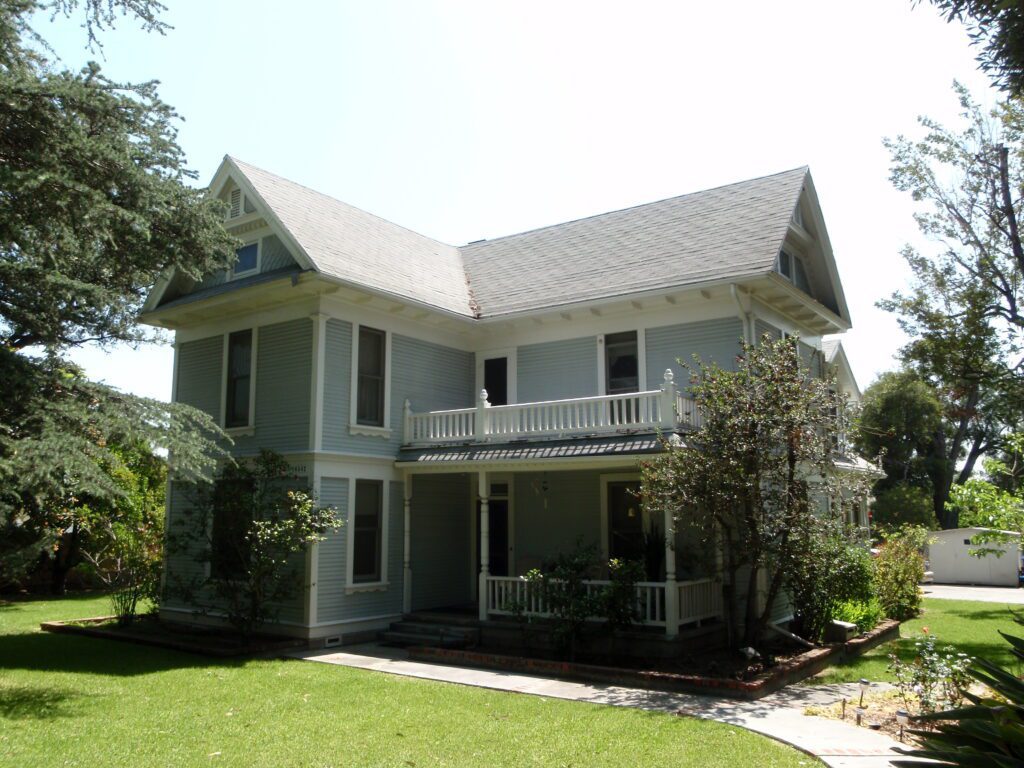 Tour Stop #1 Original Milhous House
Milhous residence, 13542 Starbuck Street.
Franklin Milhous shipped all the lumber and materials from Indiana to build this beautiful home in 1897 when he moved his family west. The residence is an excellent example of the Queen Anne Victorian architectural style.
Franklin and Almira Milhous lived here with Franklin's mother Elizabeth and all of their children. Almira continued to reside in the home after Franklin died in the Spanish flu pandemic of 1919.
When Frank and Hannah Nixon moved back from Yorba Linda in 1922, they lived here while Frank Nixon built a new home just up the street toward town.
Richard Nixon and his grandmother Almira were very close.
She loved having large family gatherings, where Richard and his cousins played ball out front, then in the evening he played piano for his relatives.
There is even a wooden bannister inside that Richard used to love to slide down.
Looking at this setting, it doesn't take much to imagine a young Richard Nixon running around playing ball like any other All-American kid.
Years later, Richard described how he studied for bar exam here: "I used to go up to my Grandmother's house because it was quieter there and I could study without interruption. I recall that she used to fix me one of my favorite dishes (chipped beef on toast). She had a way of preparing it that made it extraordinarily delicious and just seeing her from time to time gave me encouragement as I drove myself to the limit to get ready for the bar exam."
Richard Nixon last visited the home in 1967 following his mother's funeral. He wanted the last family get-together to be here. In the 1950s, the home was moved 500 feet to the south to its current location, with Richard Nixon's niece and nephew owning and living at the home until last year.