Nixonville, Part 5
Tour Stop #14, 15844 Whittier Boulevard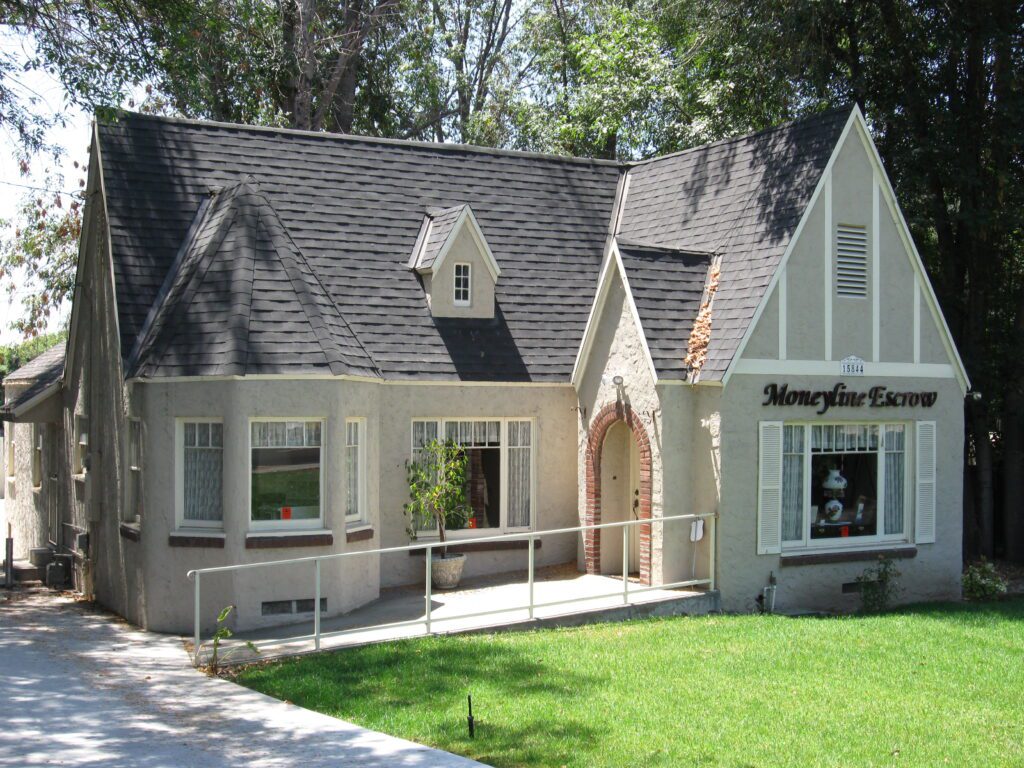 Richard Nixon's parents, Frank and Hannah, developed the Nixon gas station and store along with their residence at the corner of Santa Gertrudes and Whittier Boulevard. Through the years, as their family enjoyed financial success, Frank and Hannah purchased the property on Worsham Drive in College Hills in 1939. However, within a few years they found that the house was too ostentatious for their style. Ultimately, they settled at 15844 Whittier Boulevard by 1945. At the time, Richard Nixon was serving in the United States Navy, stationed on the East Coast following his service in the South Pacific.
In the summer of 1945, a group of Whittier Republicans and others from the Congressional District joined together to form the Committee of 100, a group of party loyalists seeking to recruit a candidate to defeat five term incumbent Democrat Jerry Voorhis. Herman Perry, the manager of the Bank of America located in the Bank of America building, (who was the father of long known Whittierite Hubert Perry) was a leader of Committee of 100. Herman wrote to Nixon inquiring as to whether he was interested in running for Congress. After Nixon replied in the affirmative, arrangements were made for Richard to return to Whittier to meet with the Committee of 100.
On November 1, 1945, Pat and Richard Nixon arrived in Whittier, staying with Frank and Hannah and Richard's younger brother Eddie at the 15844 Whittier Property. Richard spent the afternoon in Eddie's bedroom in the back corner of the house preparing his remarks for his presentation. When Eddie arrived home from high school, Hannah cautioned him "Richard is studying. Don't bother him right now. He's back in your bedroom just reading up a storm and making notes." That evening Richard Nixon met with a group of Whittierites to break bread at the Dinner Bell Ranch, then appeared the following day before the Committee of 100 at the William Penn Hotel, where Nixon was selected as the congressional candidate. After his appearance before the Committee of 100, Pat and Richard returned to the East Coast so Nixon could finish his war time service. It is significant to note that the first political speech that was ever given by Richard Nixon as a prospective political candidate was prepared at the 15844 Whittier Property.
In January 1946, Richard and Pat (who was 8-months pregnant with their first child) returned to Whittier, moving into the 15844 Whittier property with Frank, Hannah, and Eddie.
After Pat Nixon gave birth to Tricia on February 21, 1946, at the Murphy Memorial Hospital, Pat and Richard, along with Frank and Hannah, realized that the 15844 Whittier Property, with three bedrooms and one bathroom, was too cramped for the growing family. After Richard ran into his local barber, Weymeth Garrett, he rented Weymeth's property on Walnut in Whittier.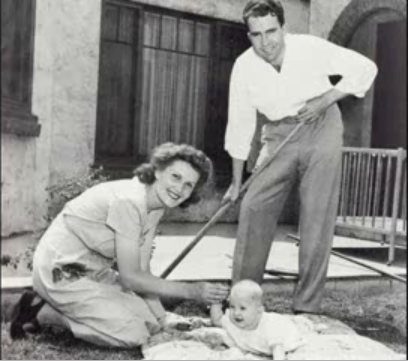 Richard Nixon won the congressional election in 1946, and Frank, Hannah, and Eddie continued to reside in the 15844 Whittier Property until 1947 when they moved to Pennsylvania to be closer to Washington, D.C. At that time, Richard's younger brother Don moved into the Whittier property with his wife Clara Jane and their children. Don had taken over the Nixon Market with Frank's retirement.
In 1948, Richard Nixon ran for re-election, and Pat and Richard, along with Tricia and their newborn daughter Julie, arrived in September 1948 for an extended stay to campaign for re-election. They stayed with Don and Clara Jane in the 15844 Whittier Property. Richard, Pat, and their daughters lived in one bedroom, Don, Clara Jane, and their children lived in another bedroom, and Pat's sister Neva, moved in to lend a hand and stayed in the third bedroom.
Richard won re-election in November and returned to Washington DC. But before he and his family departed to the East Coast, Richard called his friend Donald Fantz, who owned Don Fantz Appliance Co. in Whittier. Richard told Fantz: "Pat and I are staying out at Don's. You know, he hasn't got any heat in that place. It's cold, boy it's really cold. I wonder if you'll do me a favor. Will you go out there and look it over and see what it needs, see what you can put in there in the way of some floor furnaces or some heat, or something, to make it warm and comfortable for them. They have done so much for Pat and me and we are staying there, and we cannot do anything for them. This is one way that I can kind of pay them back a little bit for what they have done for us. That is the only way I know that I can do something for Don." Not surprisingly, Don's wife Clara Jane loved the new heater – even using the floor vent to dry clothes on rainy days!
Don and his family continued to reside in the 15844 Whittier Property until 1960. Throughout those years the Nixons often visited and stayed at the home.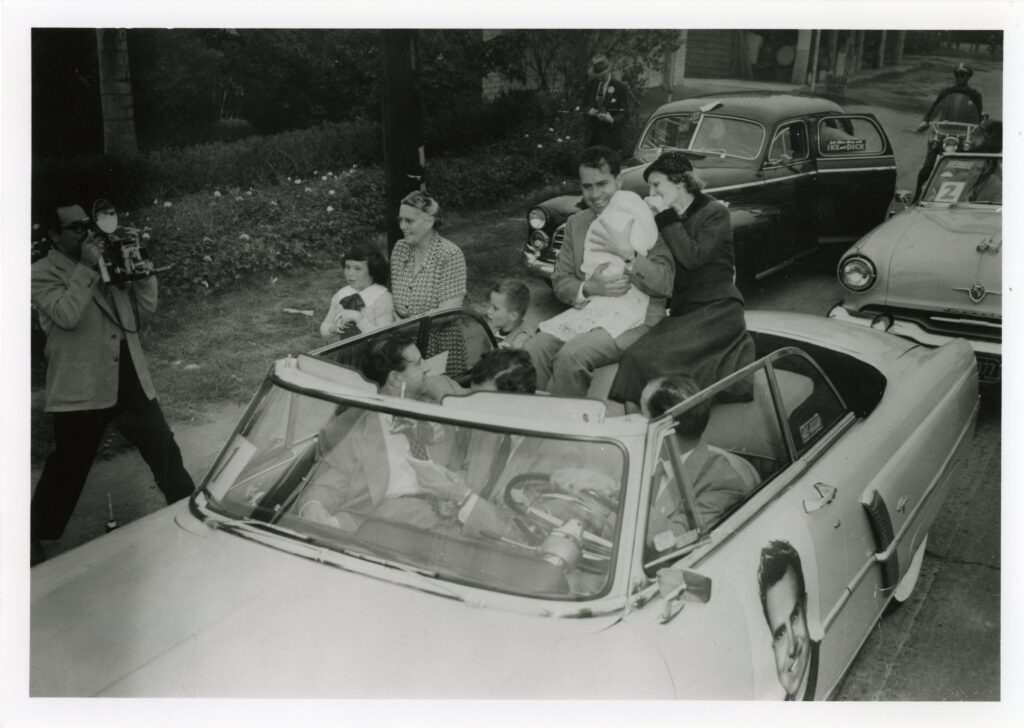 In 1960, Don and Clara Jane and their family moved to Newport Beach. At that time, Hannah moved back to the 15844 Whittier Property where she resided until she could no longer live on her own and moved to a nursing home.
In 1960, while Hannah was residing at the 15844 Whittier Property, Richard lost one of the closest presidential elections in US history to John Kennedy. Hannah was devastated by the loss and received letters of support from around the world. Her pastor Reverend George Ball of the East Whittier Friend's Church, located across the street, was shocked when he stopped in on Hannah one day and found her responding to these stacks and stacks of letters in long hand and offered to write a simple generic response. Hannah refused, telling the Reverend "No, they took the time, and they wrote to me, so I have to write to them." Hannah was so popular with the media and received so many telephone inquiries, that the telephone service to her home (the 15844 Whittier Property) had to be re-wired to the home of Whittierite Evlyn Dorn (Nixon's legal secretary at the Bewley Law Firm, a great supporter of Nixon who continued to assist him in all of his campaigns) so she could screen Hannah's calls.
The 15844 Whittier Property is a significant part of the Nixon family history in Whittier, and it is located in the heart of Nixonville. Richard Nixon had a meteoric rise in America politics, going from freshman Congressman to Vice President within 6 years, based on his first campaign launched from this 15844 Whittier Property. Because he continued to register to vote at the 15844 Whittier Property until after 1960, Richard Nixon voted for himself for President at the nearby home of Roger McNey at 10651 Avonbury Avenue.