As a Quaker growing up in Yorba Linda and Whittier, Richard Nixon attended church services four times a day on Sundays, plus Wednesday evenings. When he was a young attorney practicing law in Whittier, he continued to teach Sunday school, sing in the choir, play piano at services and even led an Easter Sunday sunrise service. To those who knew him, while he did not wear his spiritual beliefs on his shirt sleeve, it was clear that Nixon was "a deeply religious man." His religious faith was, in his own words, "intensely personal and intensely private."
As President, beginning with the first Sunday after his inauguration, Nixon began holding church and prayer services in the White House. A typical service had over three hundred guests. Although he became the target of considerable criticism for holding worship services in the White House, Nixon's Quaker roots fostered a preference for these private services, rather than the disruption of descending on a church with teams of secret service agents and the White House press corps. The Reverend Billy Graham delivered the first sermon in the East Room. Before the service began, Nixon, upstairs with the Grahams, played hymns on the piano as Billy's wife Bev sang.
In Nixon's first year at the White House, Paul Smith, Nixon's history professor from Whittier College, led a sermon in the East Room. Nixon knew Smith was not an ordained minister of the gospel, but he was a Quaker, and Nixon knew firsthand that all Quakers are "ministers by their belief." Shortly before the historic Apollo moon landing, Smith delivered a sermon entitled "Reaching for the Moon." Smith knew the invitation to give a sermon was a special honor. Considering Nixon "one of the finest students" he ever had, Smith was incredibly excited and moved not only at Nixon's invitation, but also with the President and First Lady playing host to his grandchildren and the President's introduction of Smith as his college inspiration.
Nixon invited leaders from many religious faiths to preach at the White House, including Quakers, Presbyterians, Jews, Methodists, Episcopalians, Baptists, and Catholics. Other Californians asked to conduct White House services included Pastor Eugene Coffin of the East Whittier Friends Church, Rabbi Edgar F. Magnin of the Wilshire Boulevard Temple (who Nixon had known since the 1950s) and Baptist minister Edward V. Hill. Reverend Hill, of the Mount Zion Missionary Baptist Church in Los Angeles, was one of several African-American ministers to deliver a White House sermon. Nixon had initially met black ministers Hill and Reverend M.L. Scott, of the Calvary Baptist Church, also located in Los Angeles, through Billy Graham.
Nixon was nonpartisan in his invitations to attend services, which were extended to government officials, Cabinet members, Senators, Congressmen, and government employees such as chauffeurs and mechanics. For the first services, Nixon invited the White House telephone operators, who were stunned as they had never been invited to a White House event, despite years, if not decades, of service. When Paul Smith delivered his sermon, Nixon invited California Democrat Congressman Chet Holyfield, and when Nixon learned that Holyfield had a Whittier College student named David Edinger on his staff as a summer intern, he invited Edinger as well. Ted Kennedy and California Democrat Senator Alan Cranston were among those attending services with Nixon. Former President Lyndon Johnson often attended Sunday services, as did future Presidents George H.W. Bush and George W. Bush. Chief Justice Earl Warren attended Sunday services, even after his retirement from the United States Supreme Court. Relatives and friends were frequent guests as well, and after each service, Nixon had a social hour with fellow parishioners for coffee, donuts and pictures.
Even in times of a great pressure Nixon was mindful to extend courtesies to his extended family, such as in April 1970, when he was debating whether to expand the war in Vietnam to Cambodia, a decision he characterized as the most controversial foreign policy decision of his presidency. Nixon learned that his hearing-impaired second cousin Patricia Marshburn was graduating from Gallaudet University in Washington, D.C., so he arranged for Patricia to join him and Pat for Sunday services at the White House, and followed her visit by writing her father to compliment him on raising such a charming and gentle young lady.
By holding Sunday services in the White House, the President and First Lady were able to worship in the manner that was most spiritually fulfilling to them, with family, friends and colleagues.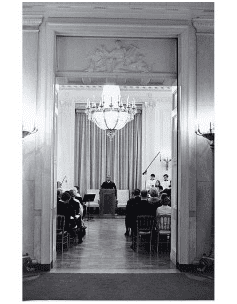 Reverend M.L. Wilson leads church services in the East Room.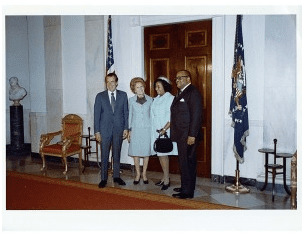 Pat & Richard Nixon welcome Reverend E.V. Hill and his wife to the White House where Reverend Hill delivered an East Room Sunday sermon.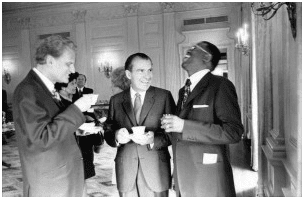 President Nixon, Billy Graham and M.L. Wilson share a laugh following Sunday services at the White House.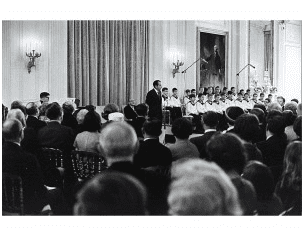 President Nixon welcomes fellow parishioners to the East Room at the White House for Sunday church services.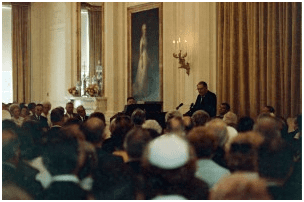 Nixon's former history professor Paul Smith leads a sermon in the East Room