Hubert Perry was "Mr. Whittier." Having attended Whittier High School and Whittier College with Richard Nixon, until his death on Saturday, February 20, 2016, at the age of 102, he was the last surviving classmate of Richard Nixon. Hubert was a wonderful man, and over the last several years he related his experiences with Nixon to me.
Hubert and Dick Nixon, both from modest beginnings, were lifelong friends.
When Hubert was born in 1913, there were no hospitals in Whittier. He was literally born at his parents' kitchen table in the house where he was raised at 6226 North Friends Avenue, Whittier.
While Hubert's father, Herman, had been the Nixon family's banker since shortly after Richard Nixon's birth, Hubert was a sophomore at Whittier High School when he first met Dick Nixon, a junior at the time. Following high school, they attended Whittier College together. Dick was six months older than Hubert, and one grade ahead. During these years Nixon was a frequent guest at the Perry's house on Friends Avenue.
They bonded on the football field, where Hubert was the student manager while Dick was a member of the team. Hubert reflected on his teammate: "Knowing for sure in his own mind that he was not going to letter and yet he was there every night, one hundred fifty -five pounds, and took a terrible beating against guys one seventy-five to two hundred pounds. He never quit. He was the most popular guy on the team." In addition to tenacity, Hubert appreciated Nixon's motivational skills: "The team had very poor equipment, which was always breaking, and as guys came off the field to fix their equipment or rest, he'd come over and sit by them and tell them how great they were doing to help motivate them." Hubert continued: "Coach Chief Newman demanded his players play at their highest level. He so focused on winning that if they were losing, he couldn't motivate the players further. Dick Nixon would become the motivator – he was the most important man on the team." Hubert also recognized that "football at Whittier College was the first time that Dick Nixon got into rough football where everyone was bigger. Football was a big influence on his life. It made him more competitive than he would have been."
Dick and Hubert's college lives paralleled in many aspects. In addition to football, they were in the Glee Club together, served in student government, and each were members of societies (Whittier's version of fraternities). Dick founded the Orthogonians and Hubert joined the Franklins.
Having known Nixon so intimately, Hubert knew firsthand the common misconception, developed through media, numerous authors and opponents in political campaigns, was that Dick Nixon was "bitter" or envious of his peers dating back to his creation of the Orthogonian Society at Whittier College. Much has been made of the fact that in The Acropolis (Whittier College's annual) the Franklins wore tuxedos while the Orthogonians wore short sleeve shirts. Yet Hubert explained that the Franklins borrowed the tuxes from Glee Club members like Nixon. The Glee Club members all had tuxedos because they performed in them when they went on tours. Plus, "it was the middle of the Depression and tuxedos were pretty cheap then. During the depression there was not much demand for a tuxedo, so they were not expensive." The Orthogonians wore short sleeves in their Annual picture as a statement, but not a statement of inferiority. "They wore white shirts just to be different." At the time, Whittier College had 400 students and four years of tuition was only $1,000 ($125 a semester). "It was a poor man's school. It was not a case of being poor amongst a bunch of rich kids – there were no rich kids because nobody had any money." So "being a Franklin was not a big deal since most students lived at home or in a dorm, and the Orthogonians were just as rich as the Franklins." As Hubert saw it, "Envy and jealousy of Franklins by Orthogonians was manufactured by media and authors."
Dick Nixon eventually ran for student body president, and Dick Thomson, a Franklin, ran against him. Hubert recalled, "Dick Thomson was much more outgoing than Nixon. He was the yell leader for the football games. But there was no question Dick Nixon was going to be student body president."
There was no dancing allowed at Whittier College, which was a Quaker school, but Nixon changed that once he became student body president. "Dancing was frowned on. One of the great things that he did for Whittier College, was that he went to the Board of Trustees and asked that the Board approve hiring a band to play on the second floor of the Women's Club (now the Whittier Red Cross) in order to have a dance. That was one of his great successes."
In Nixon's senior year, when Hubert ran for student body treasurer, Nixon was the first to support him. "Dick stood up and said 'I nominate honest Hubert Perry to be treasurer.' It was the shortest nomination speech ever." And Hubert won.
At the conclusion of Nixon's senior year, Hubert, on the staff for The Acropolis, wrote regarding Nixon: "After one of the most successful years the college has ever witnessed we stop to reminisce and come to the realization that much of the success was due to the efforts of this very gentleman. Always progressive and with a liberal attitude he has led us through the year with flying colors."
Following World War Two, where Hubert and Nixon both served in the Navy, Hubert's father, Herman Perry, recruited Dick Nixon to run for Congress in 1946 against Jerry Voorhis. That first campaign was marked by five debates, the first of which was in South Pasadena, with Hubert attended, sitting in the front row. "Dick was an excellent debater," Hubert jokingly recalled, "Dick was making Voorhis out to be a dirty rat. And he kinda was a dirty rat." Hubert added "You could see the sweat on Voorhis' face. Dick had Voorhis on the defensive. Voorhis was a socialist. At best he was a liberal. He was not the right man for the times and we were happy to see him go."
As to his personal life, after graduating Whittier College, Hubert earned an MBA at Stanford in 1937. While Hubert was in the Navy, his commanding officer told him: "Perry, everyday you are getting more particular and less desirable." Shortly afterward, Hubert attended a Stanford annual alumni retreat at the University Club of Los Angeles, and as he stood waiting for an elevator, he met Louise, the love of his life. He proposed to her on their first date, they married, and were together until her death in 2010.
Like his father, Hubert spent his career as a banker at Bank of America. And like his father before him, for many years he ran the Whittier branch office. When Hubert and Dick were kids, the Nixon Store, in East Whittier, was considered "out in the country" from Whittier, as there was nothing but miles of orchards between Whittier and the Nixon Store. Yet through the years, Whittier grew and eventually consumed East Whittier, in large part due to Hubert as he financed the development for nearly all the subdivisions and development of East Whittier. Hubert also became involved with the Presbyterian Intercommunity Hospital in Whittier, which, to this day as a credit to Hubert's fiscal guidance, is a well funded and financially solid medical facility.
Although they pursued different career paths, through the years Hubert and Dick maintained their friendship. After the 1952 "Fund Crisis" speech Hubert's sister ended up with a puppy from Nixon's famous dog Checkers.
After he was elected President, Nixon, who had been on the Whittier College Board of Trustees since 1939, called Hubert to tell him: "I am going to nominate you to the Board of Whittier College." Hubert worked to have the Richard Nixon Presidential Library established at Whittier College, and was able to arrange for the City of Whittier to donate 30 acres above the College as a library site. Although the City supported the effort, the College faculty did not recognize the future potential of having a presidential library on its campus, and Nixon's library was built in Yorba Linda at his birthplace instead. Hubert, who was on the original Nixon Library Board of Directors and remained on the Board until shortly before his death, quit the Whittier College Board of Trustees in protest.
In response to a question of what was his fondest memory of Richard Nixon, Hubert described a trip they had to Washington DC and New York City. Hubert's father thought Herbert Hoover was the greatest president ever. Herman was a trustee of Whittier College, serving on the Board with Mrs. Herbert Hoover. Herman also wanted to meet Herbert Hoover because of his admiration of Mrs. Hoover. Nixon knew how important Herbert Hoover was to Herman Perry, so he arranged for Herman, Hubert and Louise to meet Dick and Pat in Washington DC, and for the Perry's to continue on to New York to meet with President Hoover. Paul Smith, the president of Whittier College, had told Hubert that Herbert Hoover was hard to talk to, that he did not carry a conversation and unless you asked him questions, and that he did not say much. So Hubert stayed up all night thinking about questions to ask President Hoover. The next evening the Perry's all met in President Hoover's suite for two hours at the Waldorf. Herman and President Hoover spoke and engaged in conversation. They found that once you asked President Hoover a couple questions, he just opened up and started talking, speaking for over an hour at one point. That evening was the highlight of Herman Perry's life. "It was such a great experience to meet Herbert Hoover."
Reflecting back over a lifetime friendship with Richard Nixon, Hubert summed up: "Nixon was a brilliant individual. He had a way with words and seeing people. He certainly made mistakes but he was an honest man." "Mr. Whittier" was proud of his friend: "Whittier was a provincial little town. You never expected to produce a person of international stature from this community." Hubert Perry had an incredible life and was a trusted friend of President Nixon. I enjoyed getting to know Mr. Whittier. Rest In Peace, my friend.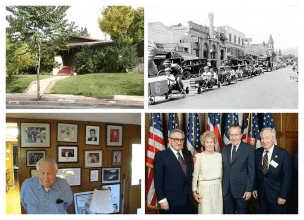 Clockwise, from top left: Herman Perry residence at 6226 Friends Avenue, where Hubert was born and Richard Nixon often visited; Hubert Perry, far left, in 1920 Whittier Soapbox Derby; Hubert & Louise Perry with President Nixon and Henry Kissinger; Hubert at home with Nixon.