Richard Nixon had a fighting spirit, dating back to his formative years when he and his Whittier College Poets football teammates took on the defending national champion USC Trojan football team in a forlorn effort at the Los Angeles Coliseum. Nixon carried that same fighting spirit into his political life.
When he announced that he was challenging popular Democratic incumbent Sheridan Downey for the U.S. Senate in 1950, Nixon promised his supporters: "There is only one way we can win. We must put on a fighting, rocking, socking campaign and carry that campaign directly into every county, city, town, precinct and home in the state of California." Although Downey, who faced an intra-party challenge from Helen Gahagan Douglas, decided to retire rather than fight for re-election, Nixon campaigned just as hard against Douglas as he would have against Downey.
So it is no wonder that in the closing days of the Senate race Nixon held a massive, old-fashioned torchlight parade and rally at the Hollywood American Legion Stadium, a preeminent boxing arena in its heyday. Hollywood celebrities Dick Powell, June Allyson, Dennis Morgan, and Irene Dunne joined Nixon on stage, encouraging voters to help carry Nixon to victory.
Less than a week later, Nixon won the Senate race by 680,000 votes in the largest margin of victory of any Republican candidate nationwide in that election year, carrying 59% of the vote. The Hollywood American Legion Stadium still stands today, and continues in the fighting spirit, albeit in the world of fitness as a LA Fitness health club.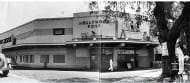 The original Hollywood American Legion Stadium is now an LA Fitness Health Club.