When one thinks of Richard Nixon, "musician" is likely not the first word that comes to mind. But he was. And his first love was the piano.
From the early days of his childhood, growing up in the tiny home in which he was born, Richard Nixon developed a passion – and talent – for playing the piano. Several relatives were terrific musicians and Nixon received music lessons throughout his youth. When his extended family got together each year for Christmas or summer picnics at the Milhous home in Whittier, Dick frequently entertained his relatives with Christmas carols or Rustle of Spring, one of his mother's favorites.
As a student at Whittier College, he came under the tutelage of Margarita Lohmann, a gifted pianist who Nixon often visited at her nearby home / studio where he further developed his talent.
Merle Wildermuth, Nixon's cousin, enjoyed the times during World War II, when Dick returned home on leave, still in uniform, to visit Merle's home on Malvern Avenue in Fullerton. Pat, Dick and the Wildermuths enjoyed gathering around the family piano as Dick tickled the ivories to their delight.
In 1950, in the closing days of his Senate campaign against Helen Gahagan Douglas, Nixon was so confident that he would win the election that he spent the evening at the Los Angeles home of Kenny Washington in the heart of Douglas's Congressional District. Washington and his fellow Rams football teammates sat around as Nixon entertained them with show tunes and other favorites on the piano.
Even after Nixon resigned the Presidency in 1974, while he and Pat were living at La Casa Pacifica in San Clemente, Nixon was known to hold impromptu get-togethers for his staff that would gather around as Nixon pounded out the USC fight song to Pat's delight.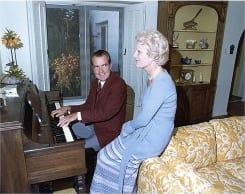 From top: Richard Nixon's birthplace at the Nixon Library in Yorba Linda; The Milhous home on Starbuck in Whittier; Margarita Lohmann's home on Hadley in Whittier; Merle Wildermuth's home on Malvern in Fullerton; Kenny Washington's central Los Angeles home; Pat and Dick at La Casa Pacifica in San Clemente.