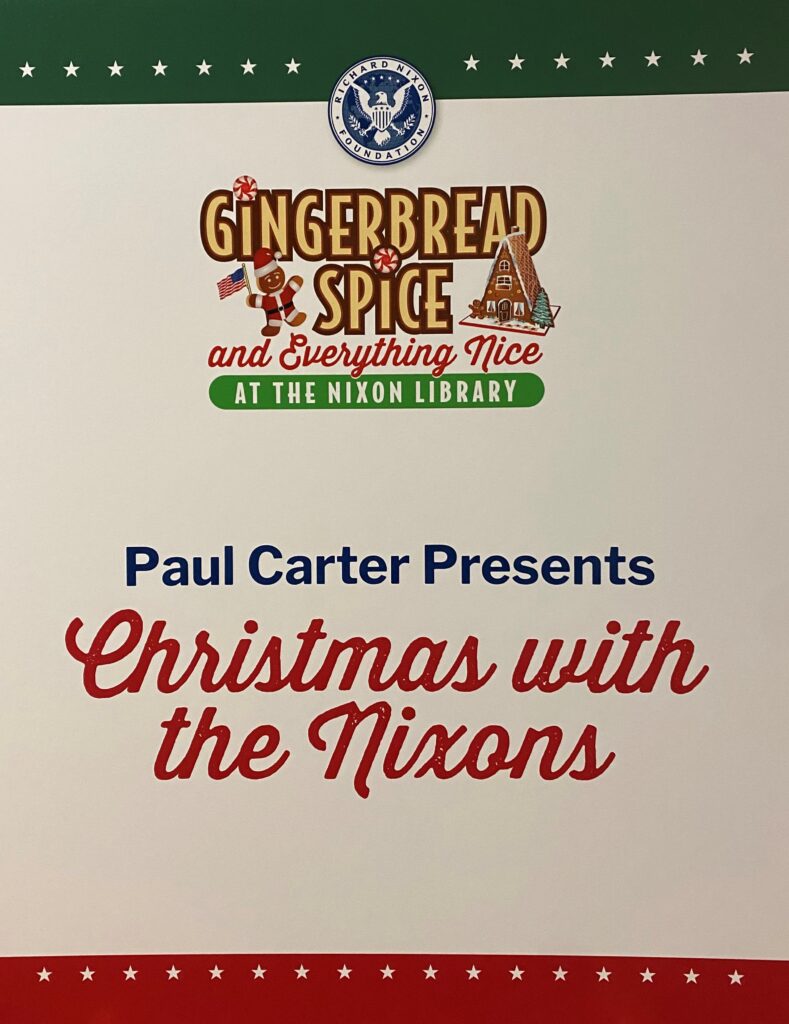 The holidays are a wonderful time to reflect and rejoice and to share the values that we hold dear to us. We think of Hope, celebrate love, bond with our families and value simplicity as we spread Christmas joy.
It's Christmas and Jesus is the reason for the season!
At the Richard Nixon Presidential Library and Museum – there is a small house where Richard Nixon was born in 1913.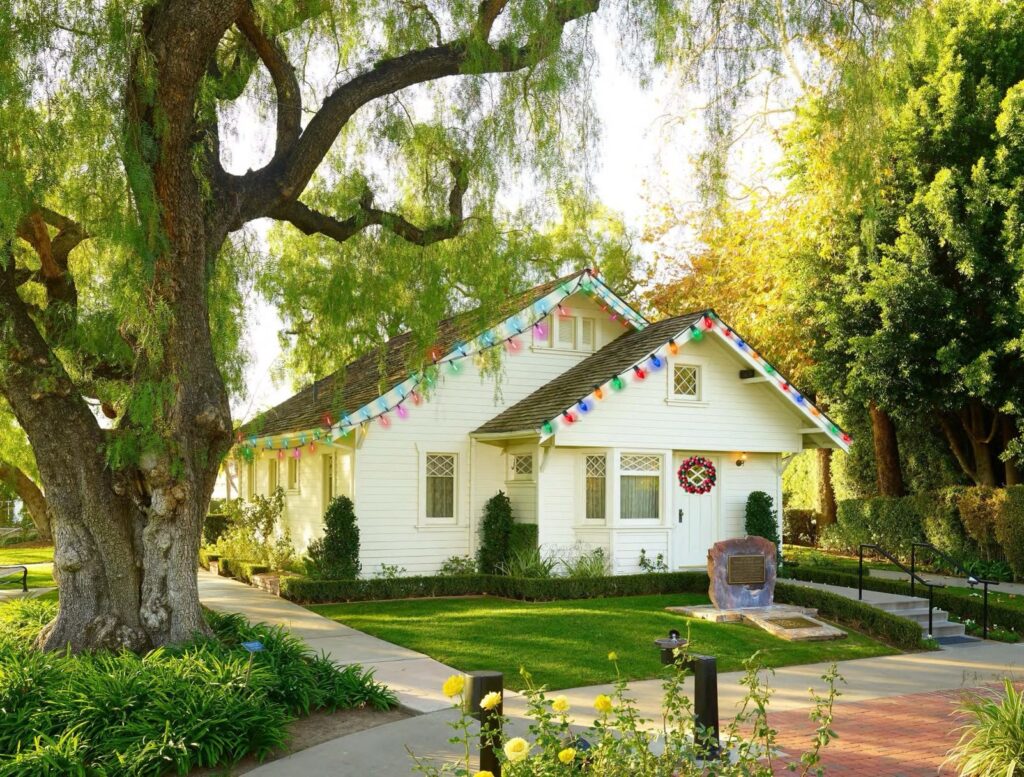 His first nine Christmases were in that tiny home where Richard, his parents Frank and Hanna, and brothers Harold, Don and Arthur all lived.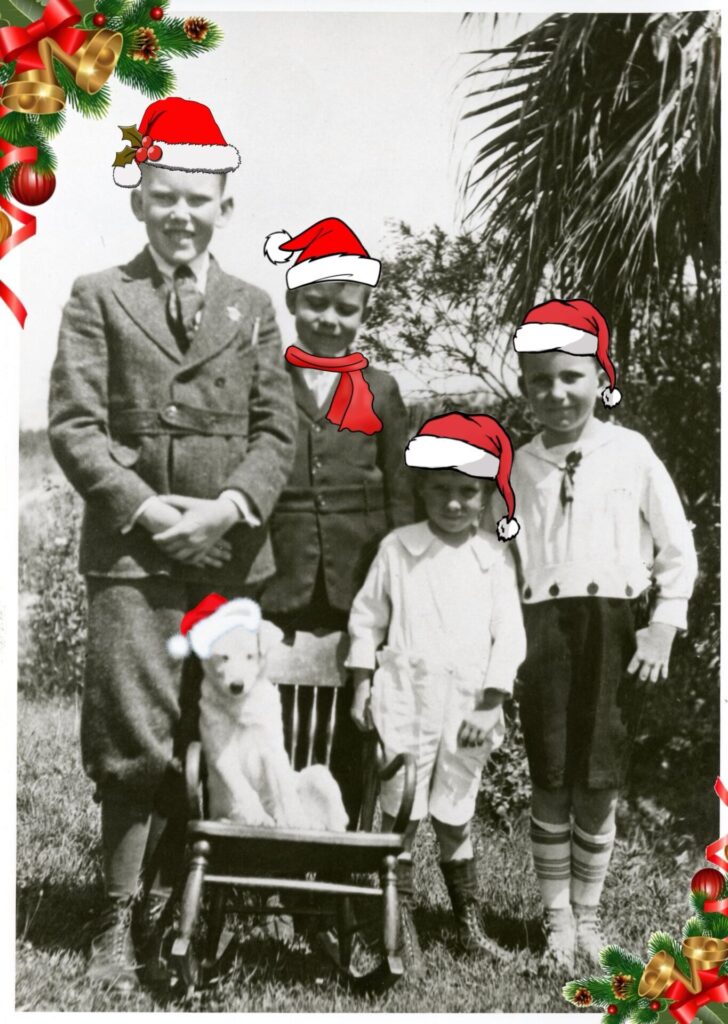 The house was small, with just two bedrooms, one downstairs for the parents and a tiny bedroom upstairs which all four Nixon boys shared.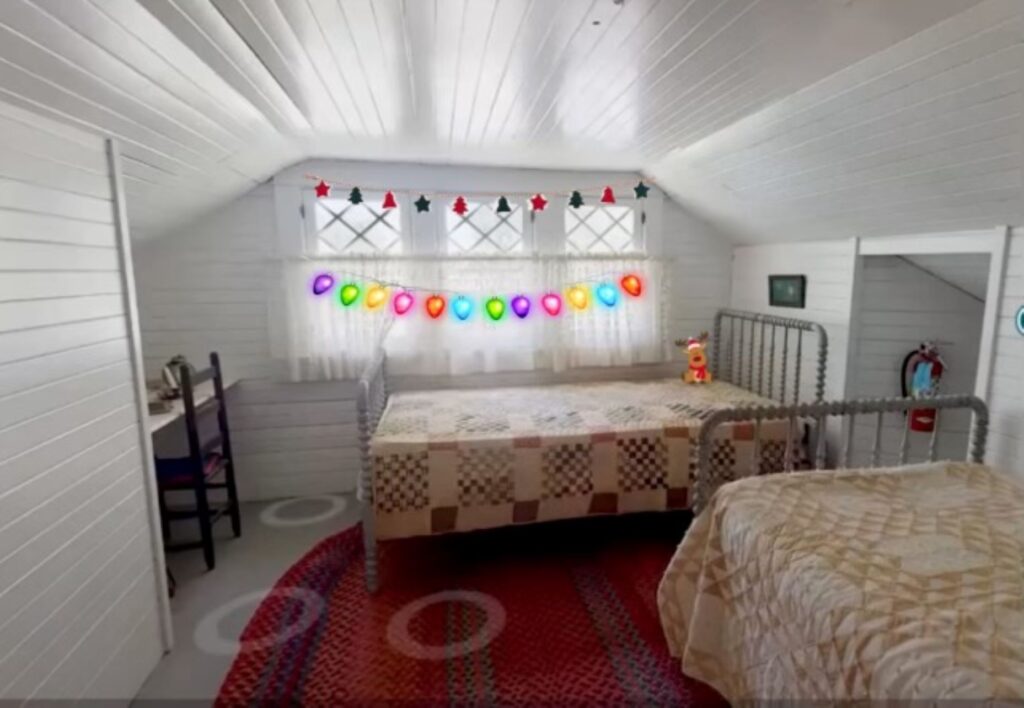 You know, in all the years they lived here, Richard and his brothers all believed in Santa Clause. His favorite memories were of Christmas when he and his brothers were "coming down the stairs to see what Santa Claus had bought them" and then sitting around the marvelous roaring fireplace which their father built.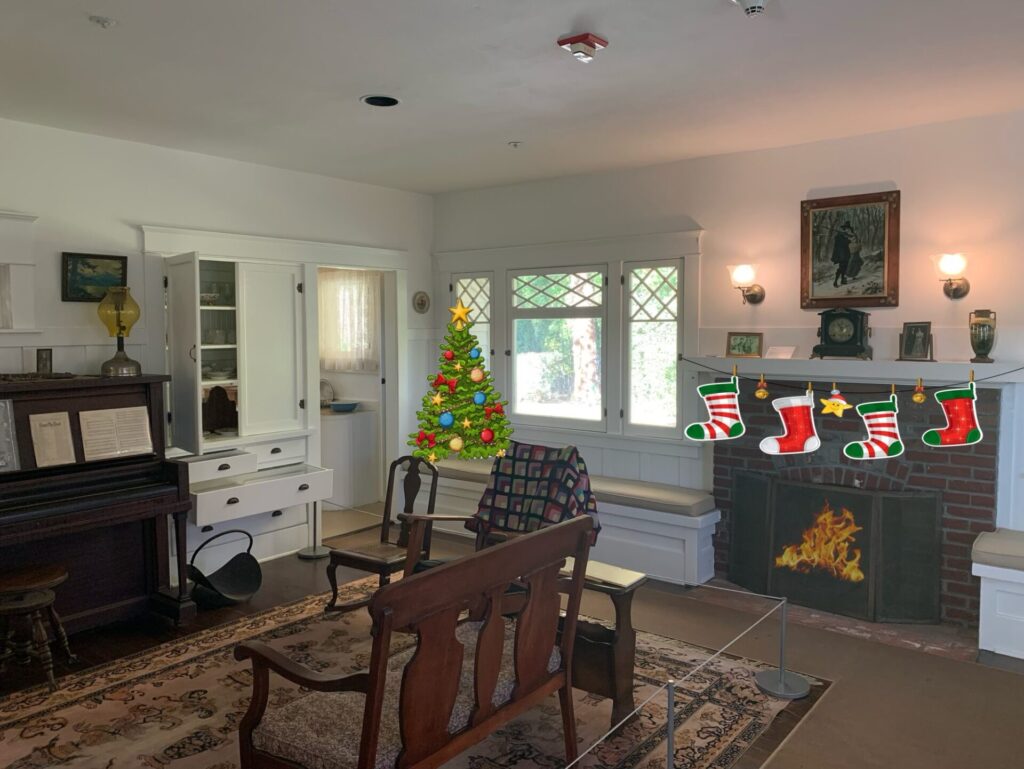 Life was simple in those days over 100 years ago. The Nixons didn't have many creature comforts – especially compared to today. But they did have each other.
Let me tell you a quick story. The Nixon boys had so few toys they'd play with anything. When younger brother Arthur outgrew his baby carriage, Richard and his friends used to play with it. One of their favorite games was catching a local cat, dressing it up, putting it in the buggy, and rolling the buggy down the street until the cat jumped out. Asked how often they did this, family friend Gerald Shaw boasted, "Every time we could catch the cat."
Getting back to Christmas, each year in that tiny home the Nixons set their table for Christmas dinner with their finest linen tablecloth. The Nixons were Quakers – they believed in silent prayer – but at Christmas dinner Hannah always led the boys in Christmas prayer.
When we think of Christmas we think of Hope
Frank Nixon believed in hope and passed on his sentiments to his sons. Richard often repeated his father's favorite saying: "I believe in the American Dream because I have seen it come true in my own lifetime."
Richard often spoke about this hope instilled by his family. "My dad always used to tell us when we were growing up that he never wanted us to go back to the good old days and that we should never be satisfied with things as they are, good as they were. But in America we always want a better life for our children than we had for ourselves. That's what I want and that's what you want."
He had these feelings of hope because of the love he had for his family.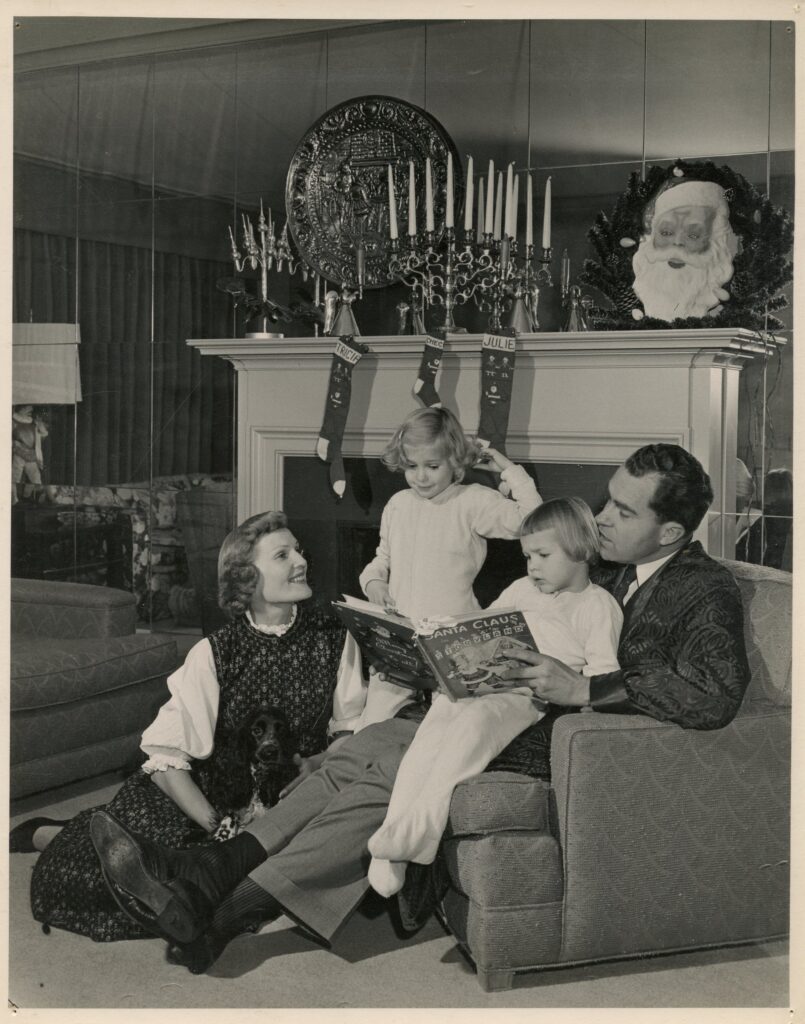 What better feeling at Christmastime than to Celebrate love with family and even with strangers.
In the years he was Vice President under President Dwight Eisenhower, Richard started a tradition of sorts when each year he and Pat visited the White House switchboard staff at Christmas to share holiday wishes with the women who worked there in shifts around the clock. It was hard work and the women were dedicated to their duties.
Richard Nixon appreciated service from his own experience.
After the Japanese attacked Pearl Harbor, Richard Nixon joined the Navy (probably thinking he'd see the world) and initially was stationed in Ottumwa, Iowa. The exact center of the United States. I don't think it is possible to get farther away from the ocean than to be in Ottumwa, Iowa.
His first Christmas there he sent a lovely Christmas letter to his parents on Christmas Eve, telling them how he and Pat we were hosting six fellow officers for Christmas dinner, and that since there was snow on the ground for over a month they would enjoy a White Christmas – and that the temperature had been zero or below for a long time!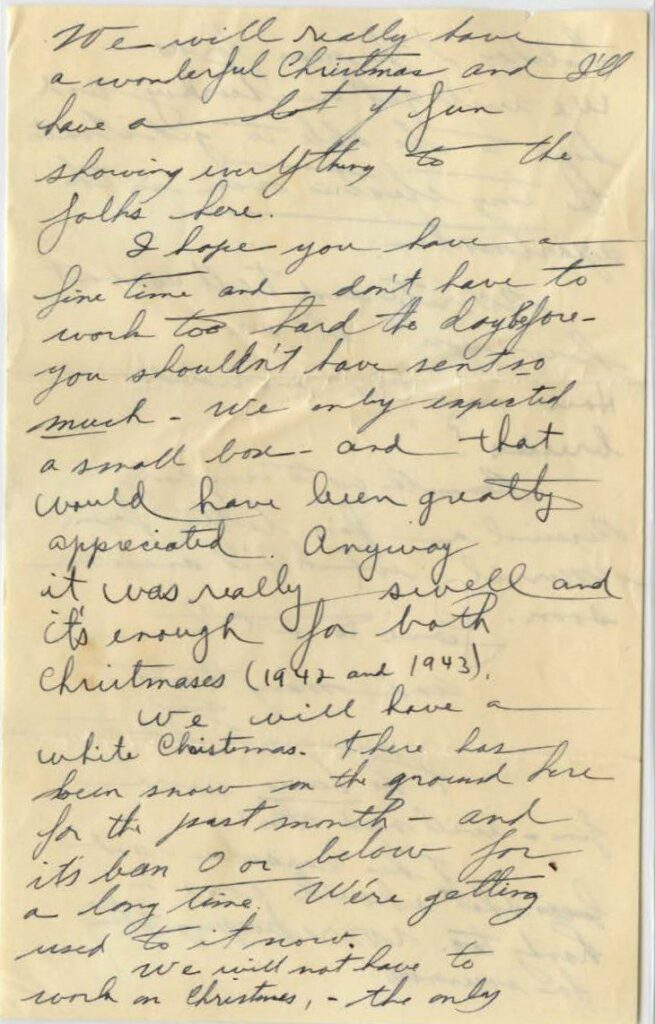 In 1956, Vice President Nixon was at Camp Kilmer outside of Vienna, Austria, visiting a group of Hungarian refugees fleeing communism.
It was just before Christmas, and the refugee children put on a Christmas program, afterward the kids clustered around Nixon, even climbing up to sit on Nixon's knee as he handed out Christmas presents to the children.
Richard Nixon was reserved. Can you imagine his innate shyness manifesting in near embarrassment as the little boys stood on their tiptoes and try to kiss him on the cheek as they received their presents?
Let me show you how the kids saw him!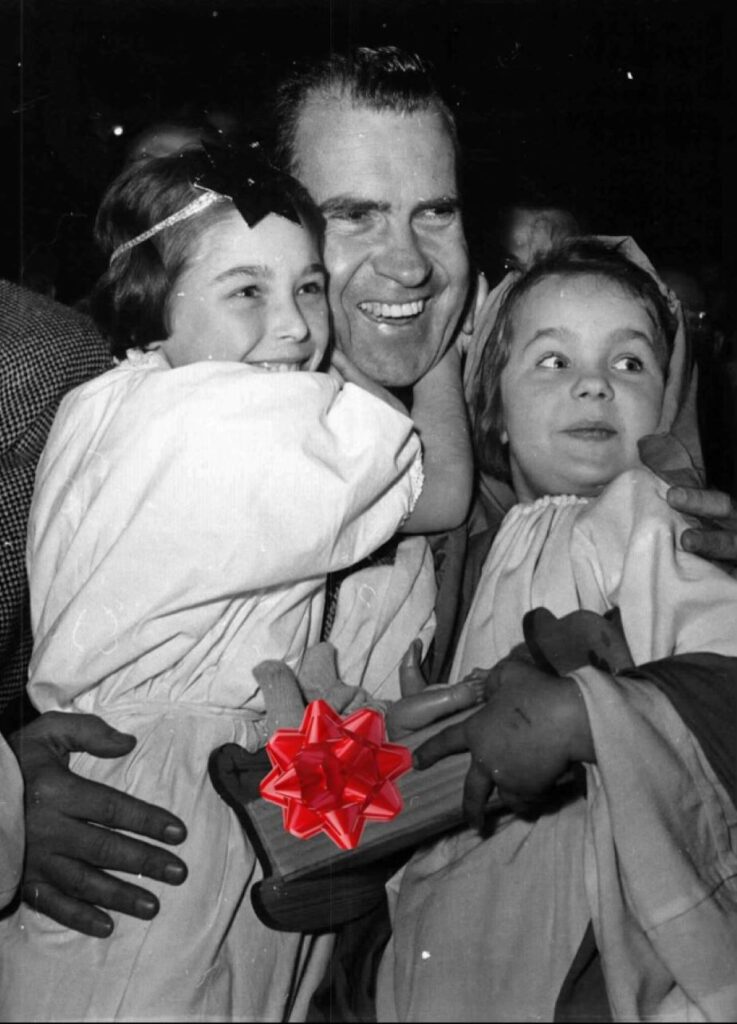 Nixon then spoke to all the refugee families, telling them how much he hoped that they would find the security and happiness they were seeking when they ultimately arrived in their new home countries. While he was there, he saw a piano on the stage behind him, so he gathered everyone around him to sing as he played Christmas carols for the children.
That's the kind of man he was.
Now, Nixon didn't wear his heart on his shirt sleeve.
Instead, he turned to his friends and family in difficult times. After Nixon lost the 1960 election for president, which was the one of the closest elections in US history, there were many claims of fraud in the voting. Numerous advisors recommended Vice President Nixon challenge the election results, including President Dwight Eisenhower. But Nixon would not hear of it. Instead, he turned to his friends, family and colleagues for support through the Christmas holidays, opening his and Pat's home to hundreds of those close to him and his family for a beautiful Christmas celebration.
And it was his love of his fellow man and commitment to peace that inspired Richard Nixon to a life of public service. Richard Nixon developed this sense of love from his family.
The Nixons and Milhouses Bonded as a family
In 1922 the Nixons moved from Yorba Linda to Whittier, a small town 17 miles west of Yorba Linda, where Nixon's mother Hannah Milhous met his father Frank Nixon met on Valentines' Day, 1908.
Can you imagine that there were so many Milhouses and Nixons in there that Richard Nixon had 52 cousins in the Whittier area?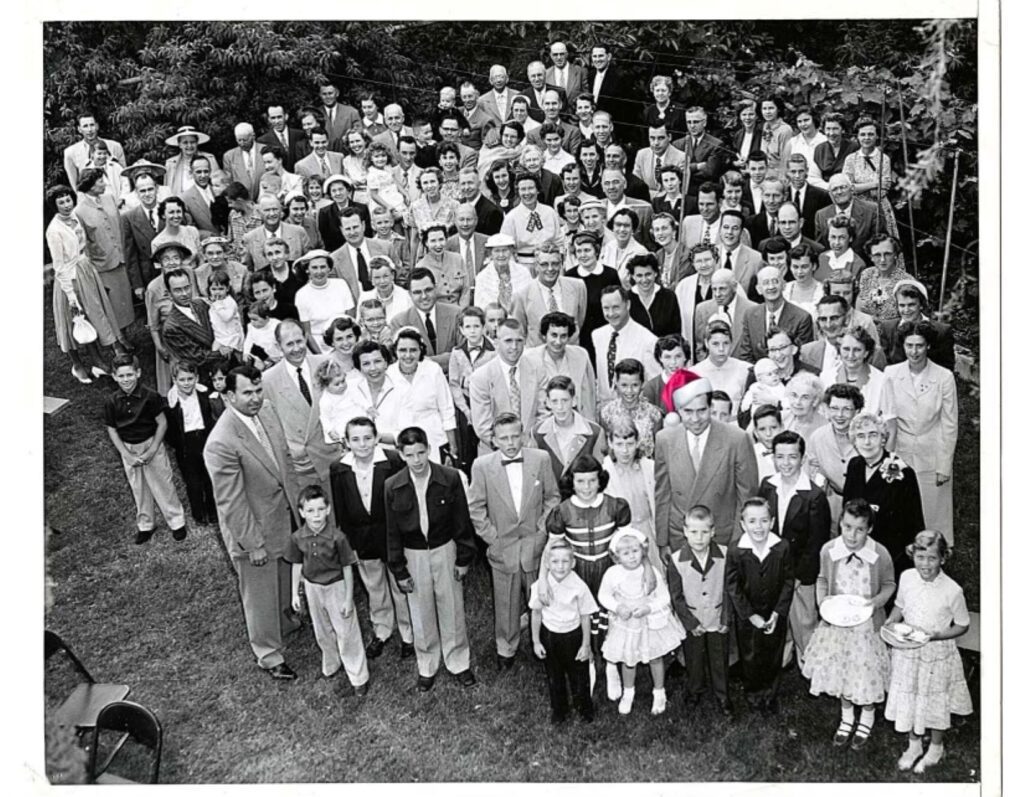 The original Milhous home still stands just off of Whittier Boulevard. After Richard's grandfather Franklin Milhous died his grandmother, Almira, who was considered "one of the jewels of the community," maintained her house on six acres just off of Whittier Boulevard.
With a parlor, living room, dining room, kitchen and five bedrooms, Almira's home was the family gathering place. Richard and all his cousins, aunts and uncles would all gather at the Milhous home in what he referred to as the "Milhous Tribe."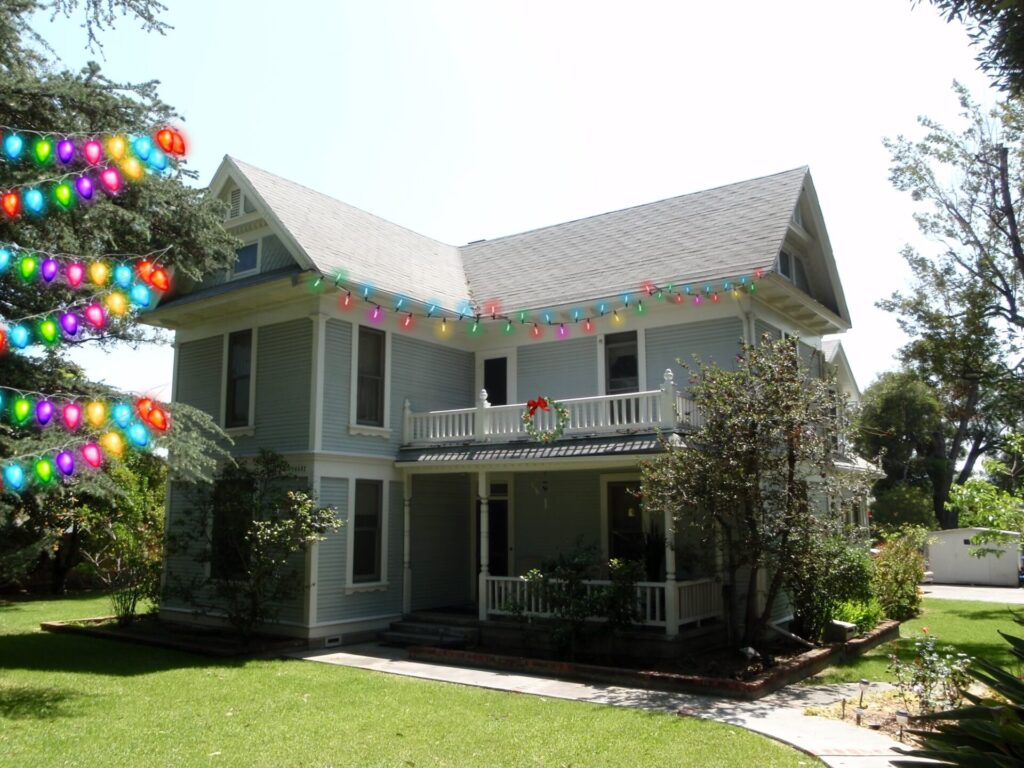 Almira enjoyed presiding over the large family Christmas events where the kids all played ballgames in the yard all day, then came in to slide down the banister inside the home.
Almira was known for her hospitality, and made her home "a place of peace, love and good cheer."
After family dinners, Richard would rave over his Aunt Olive Marshburn's loquat pie, and then the family gathered in the living room and parlor, where Richard played the piano while the family sang Christmas carols.
Richard was an accomplished pianist – and first song he learned to play was the Christmas carol – Joy to the World.
Afterward his grandmother Almira, wearing her favorite velvet dress, would sit next to the Christmas tree in the parlor and pass out $5 dollar bills in envelopes to Richard and all her grandchildren. In turn, Almira's grandchildren gave her homemade presents and as she opened each, she'd tell the kids "It's just what I wanted."
When you think about bonding as a family, we are reminded to Value simplicity – be humble – not greedy – don't focus on material items.
When Nixon was attending Duke Law School in North Carolina, for the first time in his life, he was away from his family and their annual Christmas celebration.
With that separation in mind, he wrote his beloved grandmother Almira: "At this Christmas season I should like to be sending you a gift which would really express my love for you—but it will probably be several years before I reach such a high financial level—if ever." The note went on to say that instead of a present, Richard was sending her "this Christmas note."
The following year, Richard wrote his grandmother Almira:
"You will never know how much I have appreciated your remembrances at Christmas, at Easter, on my birthdays and on days which have special significance for all. More than them, however, I believe that I appreciate the fact that I have been a member of a family with such an illustrious person at its head. Sometimes in our spare moments, some of us indulge in reminiscing here at school, and the boys are amazed at the remarkable person I describe as my Quaker Grandmother. I myself share in their respect, so here is a wishing for you, a Merry Christmas and many more Happy New Years."
Richard knew he could not afford material items for his beloved grandmother Almira, but he could give her something much more meaningful: He could put pen to paper and share his love with Almira. The type of gift that no material item could ever replace.
Richard learned early in life to Spread Christmas joy through sharing – Be charitable.
Nixon attended Whittier College in the heart of the Depression. Many of his classmates were so poor they couldn't afford a ten cent tamale. In those hard scrabble years Richard would often bring sandwiches and pies from the Nixon store for his classmates.
Later in life, when he was in demand as a speaker, Richard refused to be paid for his speeches. And if a group sent him an honorarium anyways, he would either donate the money back to the group or to charities that he believed the group supported. When he'd do that, he'd send an accounting to the group – sometimes even donating more to the charities than the group originally sent him!
He did this because he was grateful – Nixon always thanked everyone.
In college he sent out Christmas Card: "Expressing my deepest appreciation for your cooperation during the past year and wishing you the greatest success and happiness in the years to come." Thinking of friends and being grateful for relationships was a lifelong trait of Nixon. And he honored these relationships through the holidays.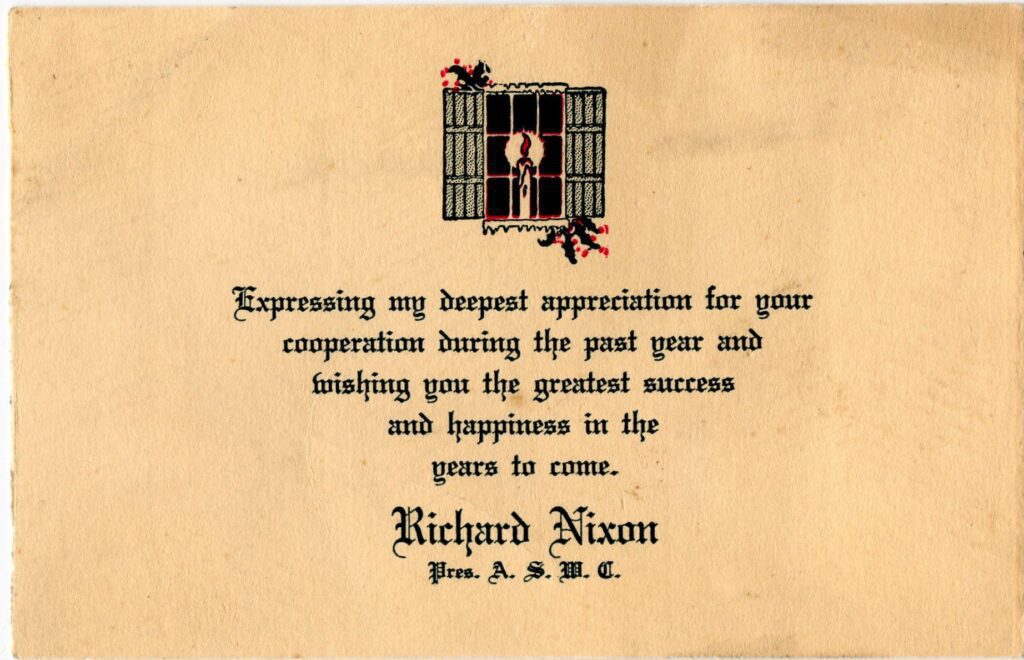 After his resignation, Richard and Pat's daughter Julie Nixon Eisenhower reflected, "Christmas 1974 was the lowest point in my father's life." Yet as Christmas approached, Nixon lifted his spirits by spending time with family and friends. And it worked.
When he called longtime friend Earl Adams to wish him a Merry Christmas, he told him: "I'm weak, but I think I'm improving. After the first of the year, Pat and I are going to begin seeing people. If you're down this way, drop in to see us."
By Christmas 1975, Nixon was spreading his gratitude, telling friends: "As the year 1975 comes to an end, I want you to know how deeply I have appreciated your loyal friendship and support over the years. Only during difficult periods does one learn who his real friends are. I am grateful that you have always been in that group. Pat joins me in sending our best for Christmas and the New Year."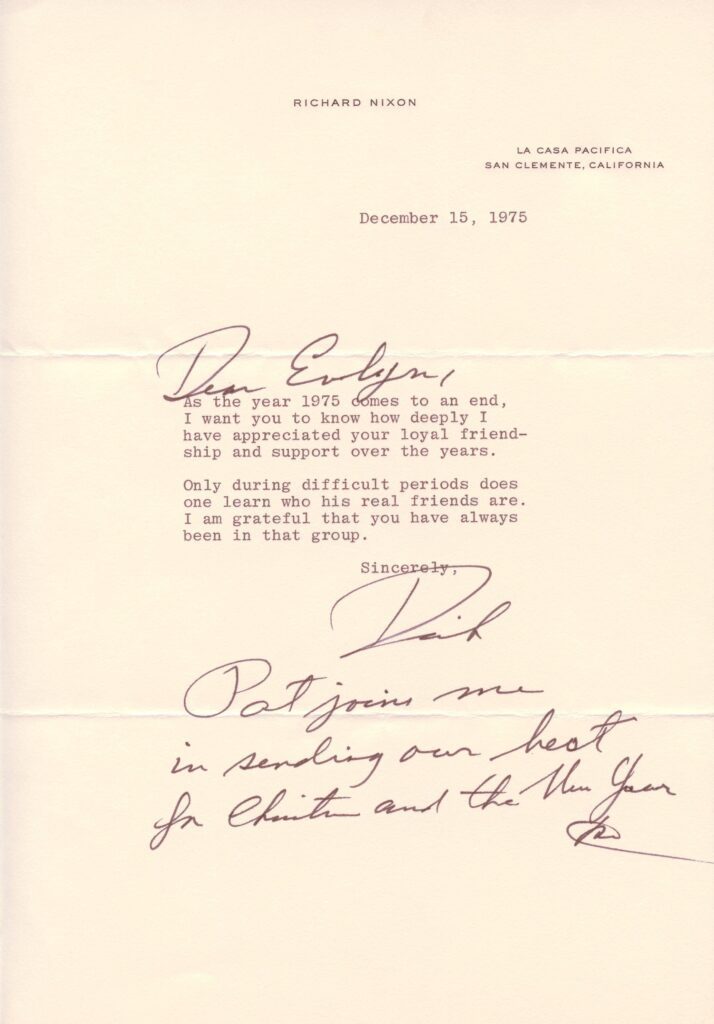 Evlyn Dorn, to whom Nixon wrote, first met Richard in 1937 when she was a legal secretary and he was a new attorney. She remained dedicated to Richard Nixon the rest of her life.
The following year he sent his friends, such as Gene Boyer, the helicopter pilot that flew him from the White House on August 9, 1974, the following Christmas message: "During this Christmas Season, as we approach America's Bicentennial year, I want you to know how deeply grateful I am for your loyal support over the years, and particularly during the rather difficult period since I left office. The most precious gift any person can give to another is friendship, and for the privilege of yours I shall always be in your debt.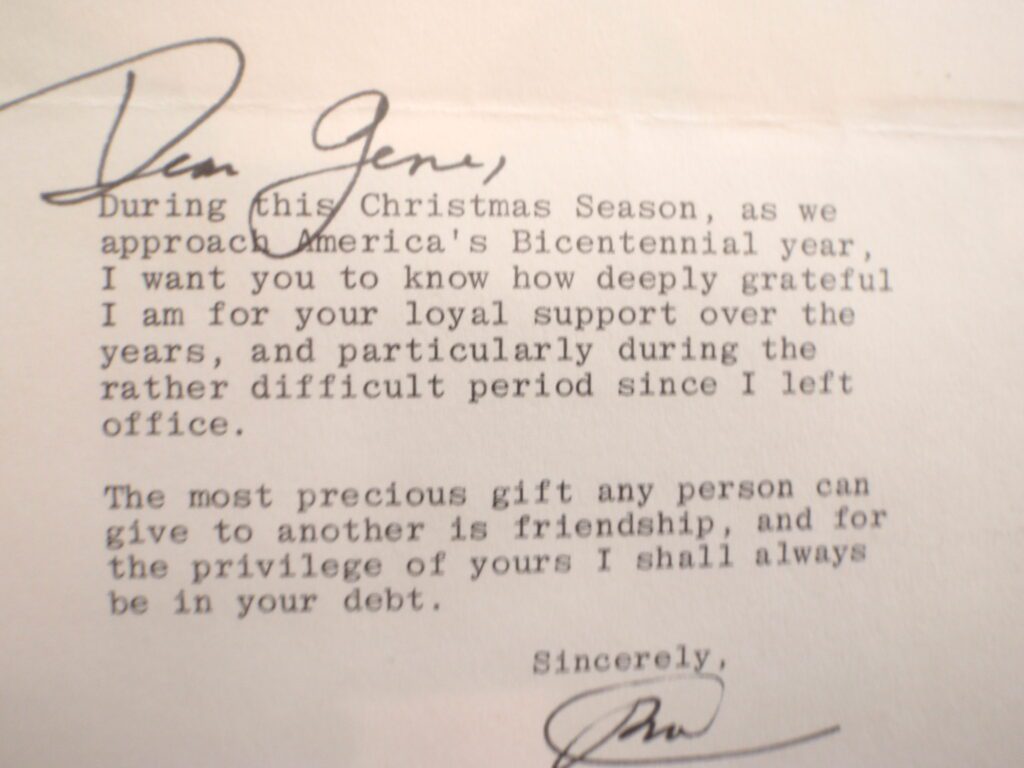 Gene Boyer had flown presidents before and after Richard Nixon, yet he was dedicated to Richard Nixon the rest of his life, even restoring the helicopter that lifted off the White House lawn on Nixon's final day as president.
Richard Nixon had a lifetime of living the values that we hold dear, especially at Christmas time. A devout Quaker, he certainly understood that Jesus is the reason of the season. He never gave up hope for his fellow man, and he celebrated love – love of family, love of friends and even love of strangers.
Family was especially important to Nixon, and he cherished the love of his two beautiful daughters, their husbands and all of his grandchildren. Through it all, he valued simplicity – materialism was never the object of his desire, and above all else he was grateful for all that he had and the life that he lived.
So let's conclude by looking at some pictures of the Nixons enjoying Christmas during their White House years.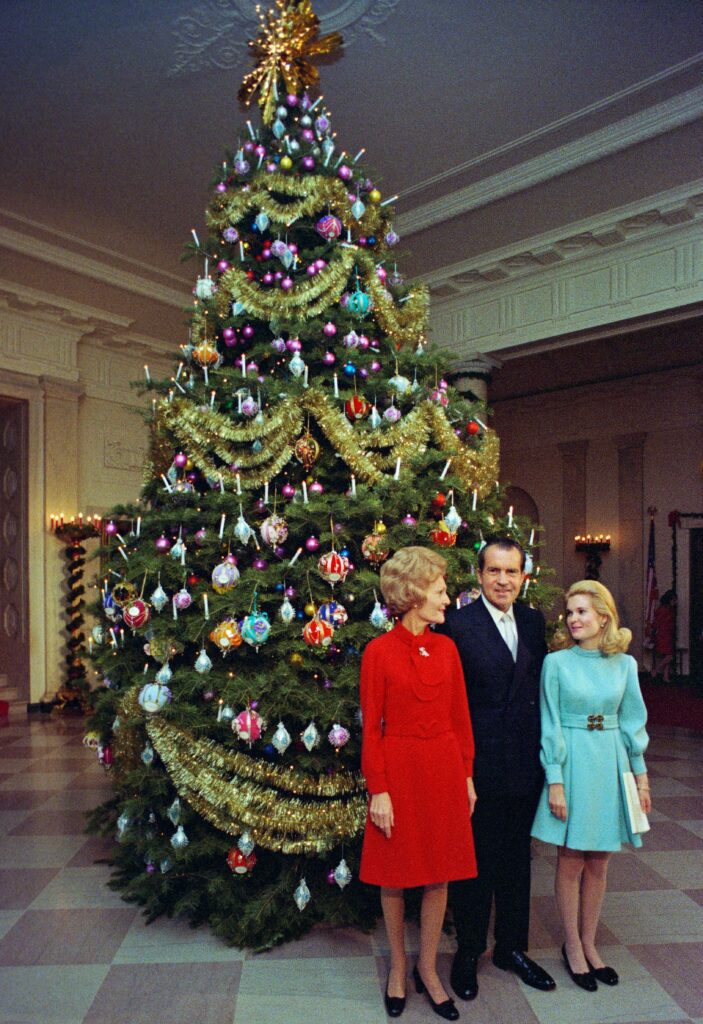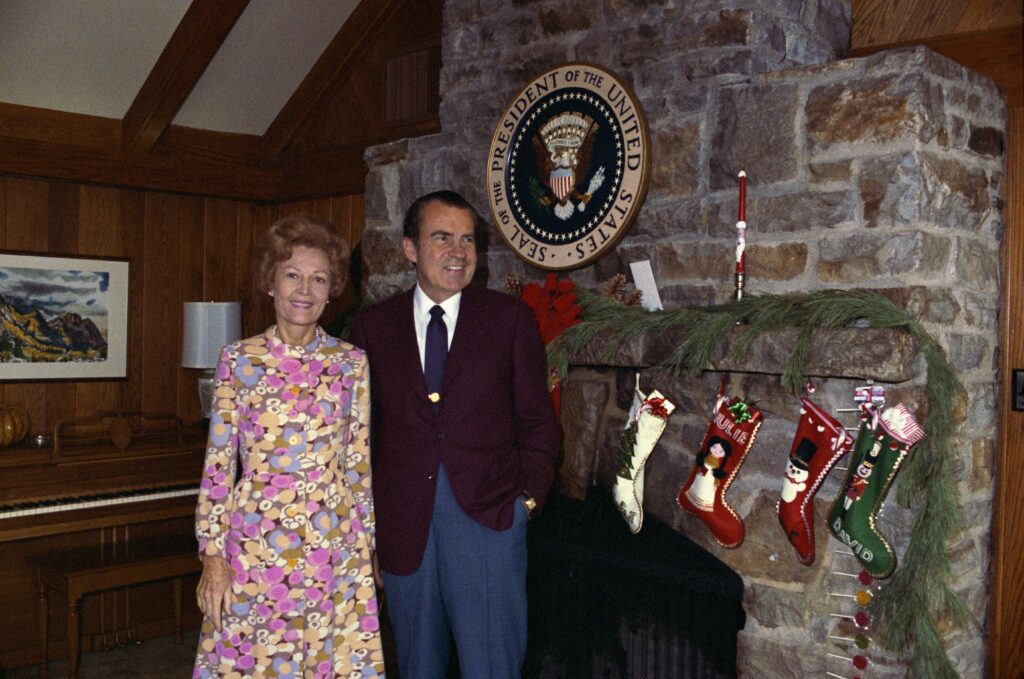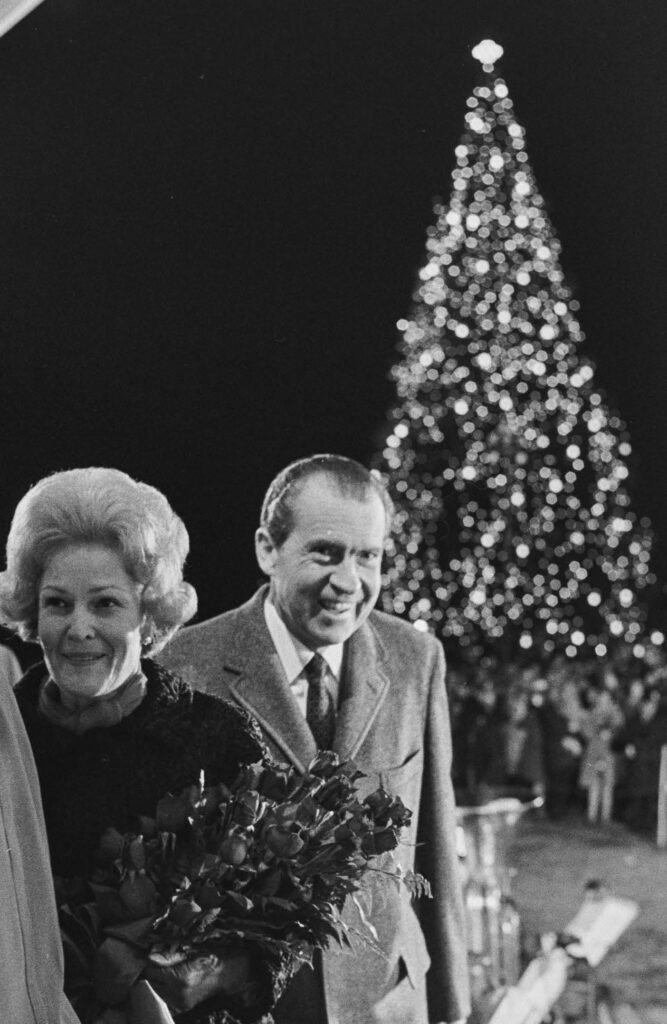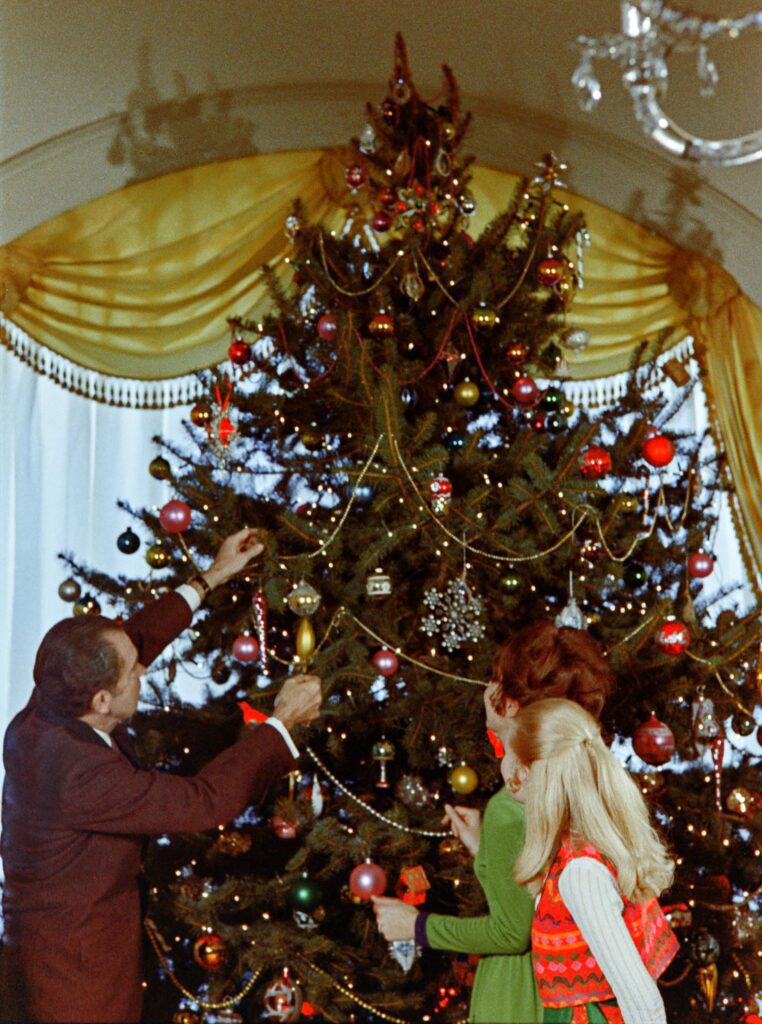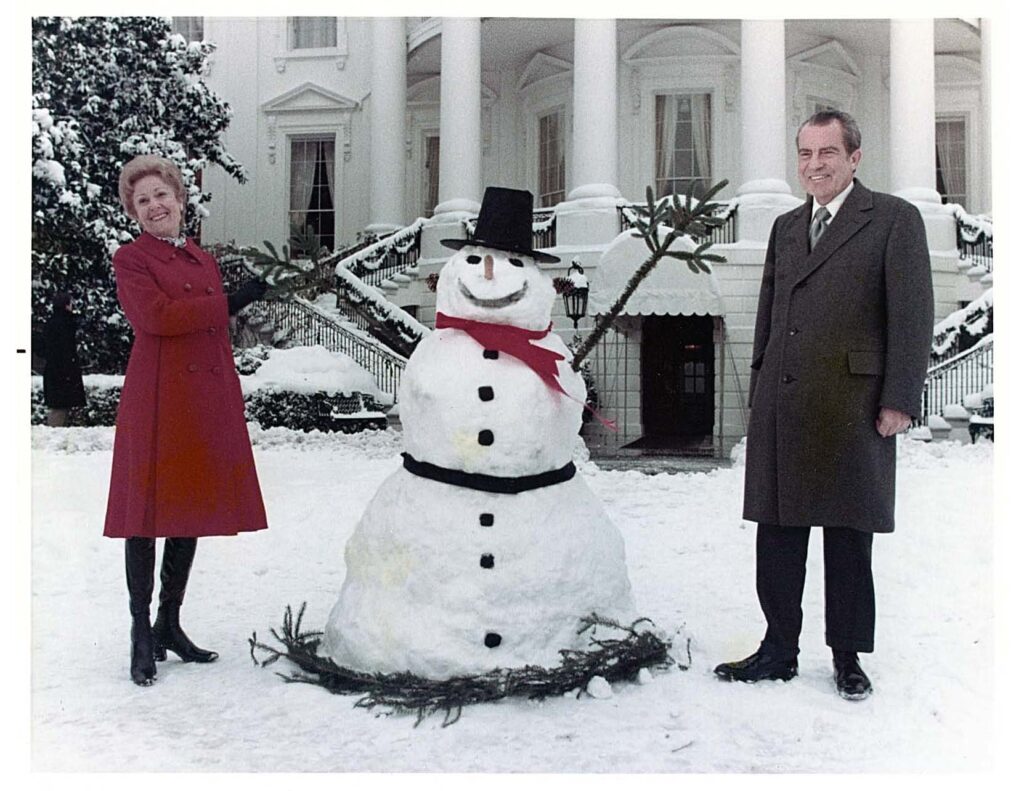 I want to give a special Thank You to Gianluca Allesina at the Richard Nixon Foundation for helping me with many of the photographs posted above.
Happy Holidays!