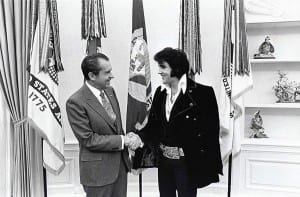 When the National Archives first admitted, in 1988, that the White House meeting between President Richard Nixon and Elvis Presley had been photographed, the iconic image of the President and the King of Rock & Roll in the Oval Office immediately became the most popular and highly requested photograph in the archive's collection. It is still its best seller to this day. The meeting has even been the subject of Hollywood movies including the upcoming Elvis & Nixon, starring Kevin Spacey, and Elvis Meets Nixon, released in 1997.
The official government version of the meeting and how it came about is rather vanilla. But the truth is so explosive, so incredible, that neither Elvis nor the government could afford for it to be revealed. Only now that the last surviving government official – former First Lady Nancy Reagan – has passed away can the amazing story finally be revealed.
The official version, according to the Smithsonian Institution, is that in mid-December 1970, Elvis was at Graceland in Memphis, and his family was complaining that he spent too much money on Christmas presents. Upset, Elvis stormed out, drove to the airport alone and caught the next available flight, which happened to be bound for Washington, D.C. Upon arrival he checked into The Washington Hotel, and, still alone, soon got bored and decided to fly to Los Angeles where he met up with Jerry Schilling, his longtime aide.
While flying cross-country, Elvis decided he wanted a badge from the Federal Bureau of Narcotics and Dangerous Drugs, so after just one day in Los Angeles, Elvis and Schilling flew back to Washington, D.C. on a red-eye. During the flight, Elvis scribbled a letter to President Nixon in which he offered his services to the government and all he wanted in return was a federal agent's badge.
From the airport, Elvis and Schilling took a limo to the White House, where Elvis dropped off his letter at the front gate at 6:30 a.m. By noon, Elvis was back at the White House for a meeting with Nixon in the Oval Office. "I'm on your side," Elvis assured Nixon, as he asked the president for a badge from the Bureau of Narcotics and Dangerous Drugs, and Nixon ordered it done.
At Elvis' request, the meeting was kept secret. A year later, columnist Jack Anderson broke the story—"Presley Gets Narcotics Bureau Badge"—but few people seemed to care. The government's version of events is entirely sanitized. But it had to be to protect Elvis – their biggest asset.
It's a quaint story, but it is time for the American people to know the truth, which is that Elvis Presley was a C.I.A. agent. Yes. Elvis Presley was a secret agent of the Central Intelligence Agency – a spy!
Think about it. Who shows up at the White House in a caped, purple velvet suit with a huge gold belt buckle and amber sunglasses, armed with at least one gun, passes a note to the security guard at the front gate, and is suddenly escorted in to meet with the President of the United States and is issued a federal law enforcement badge? And all of this takes place within a few short hours? The cover story is so preposterous that was was actually taken at face value by the American public for nearly half a century!
The reality is that Elvis Presley's work for the U.S. government began in 1958 when he joined the U.S. Army. He was stationed in Friedberg, Germany where he studied the communist infiltration of the German culture and became dedicated to fighting communism. Although officially "discharged" from the Army in March 1960, Elvis's government service actually continued as a spy for the Central Intelligence Agency investigating domestic communist infiltration.
Although Elvis was the King of Rock & Roll, he undertook an assignment that required him to set aside his music career and investigate communism in Hollywood. And from 1961 until his December 1970 meeting with Richard Nixon, Elvis Presley stopped touring and instead launched a movie career as a cover for his work rooting out communists in Hollywood.
Elvis was in such deep cover he that he had to communicate his findings through movie titles. For example, the movie Blue Hawaii was originally named Hawaii Beach Boy but Elvis had the name changed to reflect that no communist ties were found at Paramount Pictures. Color coding states started as a cartographers trick, but was adopted by the C.I.A. following World War Two. Political analysts use colors to identify states by political affiliation, with blue signifying the Democrat Party, so Elvis selected Blue Hawaii to communicate that Paramount Pictures followed democrat principles and that he had not discovered any communist infiltration. And just as Elvis loved women, the government embraced capitalism. So whenever women were referenced in movie titles, it was a signal that Elvis was not uncovering any communist infiltration in Hollywood. Hence Girls! Girls! Girls!, Girl Happy and Harum Scarum. Although he didn't find any communist sympathizers, he did note the leftward movement in Hollywood in the late 1960's, hence The Trouble with Girls in 1969.
Elvis Presley performed his duties as a true American hero. Yet he became restless as the 1960's came to a close, and was not sure what direction he should take in his life. He loved the government secret agent work, but he longed for the live musical performances that concert tours provided. At the same time he didn't know if he could return to music as he had not performed live in nearly a decade. Torn, Elvis made a Christmas special in December 1968, billed as his Comeback Special. Although the production was a hit, Elvis was still torn.
The December 1970 meeting was not their first. Elvis and Nixon first met at the CIA headquarters in Langley, Virginia less than two months after Nixon was inaugurated as the 37th U.S. President. Elvis was at Langley for debriefing following the recently wrapped filming of Charro, and Nixon wanted to personally meet with the Elvis to confirm there were no communist ties to Hollywood.
Elvis Presley and Richard Nixon shaking hands in Langley, Virginia, on March 7, 1969 following their secret meeting at the CIA headquarters.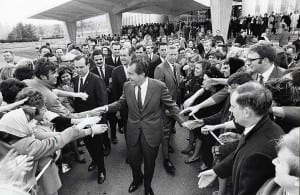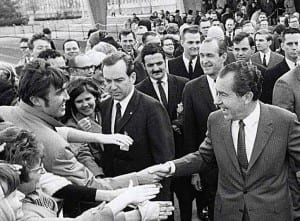 The President and the King enjoyed a far ranging discussion of communist influence around the world, the importance of Presley's work searching out communist ties in Hollywood, and their shared loved of music. Nixon was the first President that Elvis had met, and the King was particularly touched that Nixon helicoptered from the White House to visit with him. During their meeting, Nixon, an accomplished pianist with an excellent sense of rhythm, immediately recognized Elvis's rhythmic cadence while they spoke, and, sensing Elvis's yearning to perform, Nixon implored the King to return to music. Nixon was convinced that Elvis's best years as an entertainer were ahead of him. But Elvis was torn, he wanted to serve his country and he also loved singing. Nixon finally persuaded Elvis to agree to a short concert engagement, after which Elvis would decide whether to return to Rock & Roll. Nixon promised that, after performing live concerts again, if Elvis wanted to return to music full time, they would meet again to formally acknowledge Elvis's service to his country.
So from July 31 through August 28, 1969, Elvis returned to the stage in Las Vegas, reigniting his passion. Yet at the same time Elvis could not embrace the concept of shedding his deep cover assignment, and certainly was not going to make any decision lightly. It took a year of deliberation before Elvis decided to follow Nixon's advice and rededicate himself to music full time.
To officially end his career as a C.I.A. agent, Elvis needed to meet with the President. But he couldn't just show up at the White House and ask to see the Commander in Chief. The 1960's were a turbulent time period as America experienced assassinations of JFK, Malcolm X, Martin Luther King, Jr. and Bobby Kennedy, and access to the President was very limited by the secret service and scrutinized by the press.
Instead, in true "cloak and dagger" fashion, Elvis precisely followed the plan he devised with Nixon when they met at C.I.A. headquarters. First, Elvis had to signal his readiness with a trip to Washington, D.C., alone, checking in to the Washington Hotel under the code name John Burrows. The name John Burrows selected because he was an obscure politician from the mining hills of Queensland, Australia, just as Elvis was from the mining hills of Tupelo, Mississippi. To this day the Australia government continues to honor Elvis's spy work by allowing Queensland as the only place personalized Elvis Presley license plates can be bought anywhere in the world outside Memphis.
Next, he needed to return the next business day with his "handler" so that Nixon knew he was serious. And there was one caveat – he had to return his Colt .45 government issued service weapon, and in exchange Nixon would award Presley a federal agent's badge as a silent commemorative for his years of service.
The perfect opportunity arose as 1970 came to a close when Elvis's father Vernon and wife Priscilla complained about his Christmas shopping. Elvis "stormed" out of the house and flew to Washington, D.C. on Friday, December 17th. He checked into The Washington Hotel, alone, signaling that he was ready to meet with Nixon and announce his retirement. He then flew to Los Angeles for two reasons – to retrieve his service weapon and return to Washington with his "handler."
Elvis loved guns, and he cherished his service weapon, so much so that he had it framed and hung on the wall of his Hollywood Hills home. To Elvis, seeing the gun on the wall in the heart of the entertainment capital of the world was the ultimate irony because it was a reflection of how he himself was hiding in plain sight as a secret agent.
Elvis's government issued Colt .45.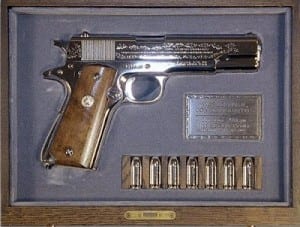 With gun in hand, Elvis then arranged to return with his handler – U.S. Senator George Murphy. Murphy was the perfect intermediary for Elvis and his selection was no accident. Nixon needed someone he could trust, so he turned to his longtime close friend Ronald Reagan for a recommendation, and Reagan immediately thought of George Murphy.
Murphy was ideal. He was a longtime friend of both Nixon and Reagan. He preceded Ronald Reagan as president of the Screen Actors Guild from 1944 to 1946, and he was director of entertainment for Nixon's 1953 and 1957 inaugurations as vice president. Having served as vice president of Desilu Productions during the fall of Cuba, he knew firsthand the perils of communism by seeing the effects on his Cuban born friend Desi Arnaz. Plus he was the U.S. Senator from California, providing the perfect bridge from Washington to Hollywood.
Ronald & Nancy Reagan, Richard & Pat Nixon, and George Murphy enjoying an afternoon together at La Casa Pacifica in July 1970.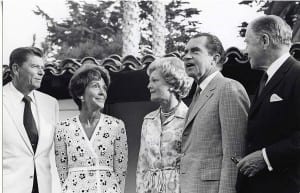 Murphy and Elvis flew from Los Angeles to Washington, D.C., and during the flight, Elvis penned his "letter" to the President. But it was actually the envelop and not the letter that was the key as it contained the code words George Murphy and Room 505 at the Washington Hotel.
The envelop – containing the code words Room 505 & George Murphy – by which Elvis signaled he was coming in from deep cover with the CIA.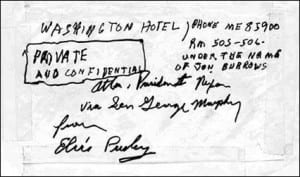 Upon receipt of the letter, the meeting was confirmed, and at noon on Monday, December 21, 1970, the America's most secret of all secret agents came in from deep cover and retired. As they met, Nixon and Elvis, both cold war warriors, hugged in a warm embrace. For fifteen full minutes the President recounting how important Elvis's undercover assignment was, and then Nixon presented the badge to his friend on behalf of a grateful nation.
Elvis loved the badge. Years later, Priscilla Presley admitted in her memoir, Elvis and Me, that the badge represented "ultimate power to him."
Nixon presented Elvis this badge in honor of his spy work.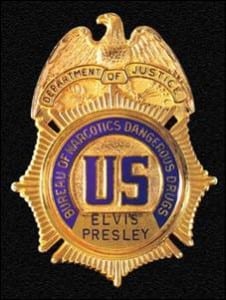 After Elvis departed the White House he resumed his singing career full force, and the world embraced him. Nixon was correct, as Elvis's greatest years as an entertainer laid ahead, including the January 1973 Aloha from Hawaii concert that was an international satellite simulcast seen live by 1.5 billion fans. Not only did Richard open relations with China, recommit the United States to environmental protections by creating the EPA, bring the communist world to its knees through détente, but he also gave us the seven best years of Elvis Presley's entertainment career.
Tags: Central Intelligence Agency, Desi Arnaz, Desilu Productions, Elvis Presley, Federal Bureau Narcotics & Dangerous Drugs, George Murphy, Jack Anderson, Jerry Schilling, John Kennedy, Kevin Spacey, Malcolm X, Martin Luther King Jr, Nancy Reagan, Priscilla Presley, Richard Nixon, Robert Kennedy, Ronald Reagan, Smithsonian Institution